Discussion Starter
·
#1
·
The Life of a Brand New Oldsmobile thread is not dead, I'm just not content with doing drawings of the same brand over and over.
What if
GM got back into the minivan business? It's a market in high demand right now, with gas prices being as high as they are ($3.55 in my area). People need an efficient way to haul people and stuff, but don't care about towing or going offroad. Okay, the Toyota Sienna and Honda Odyssey have that covered - but come on! We're getting 2010 models revealed already!
GM's answer? Build a spaceship - at least on the inside. With styling based on the Opel Meriva concept, the Opel/Vauxhall/Saturn RELAY (Saturn pictured) redefines the minivan. No longer is the minivan a milk carton or a soda bottle on wheels. The minivan is now a spaceship on Earth, with futuristic style and luxuries.
The RELAY comes in four trim levels - Value, Natural, Greenline, and Luxury. Value means value, with a 2.0L Direct-Injected I-4 good for 200HP, and 20/28 MPG ratings and a second row two-person bench. Natural keeps that four-cylinder, and adds various features that most people will buy. Luxury sticks a 3.6L Direct-Injected V6 in there, good for 285HP and 18/26 MPG ratings; plus all the luxuries you'd want on a minivan. The Greenline is the hybrid model, with a 2.0L Direct-Injected I-4 + electric motor mated to a 2-mode hybrid CVT, making a combined 245HP and 30/32 MPG ratings. All regular-engined models have a 6-speed automatic transmission.
So, may I present...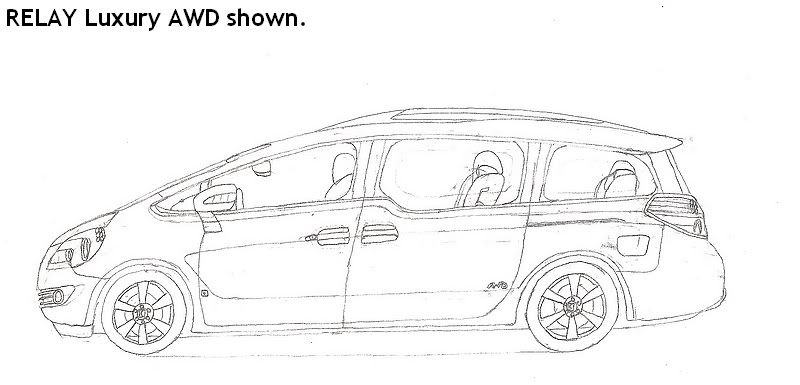 Comments?