Discussion Starter
·
#1
·
VFACTS: APRIL 2020 NEW CAR SALES, INCLUDING A SURPRISE PODIUM FINISHER
Carexpert.com.au
Mike Costello
Comparisons Editor
05 May 20
We all knew that car sales in Australia during April would be disastrously low thanks to COVID-19, and VFACTs figures released today by the Federal Chamber of Automotive Industries have borne that out.

There were 38,926 new vehicles counted as sold last month, excluding the handful of brands that do not share data, most notably Tesla (to which we've reached out, and am yet to hear back from).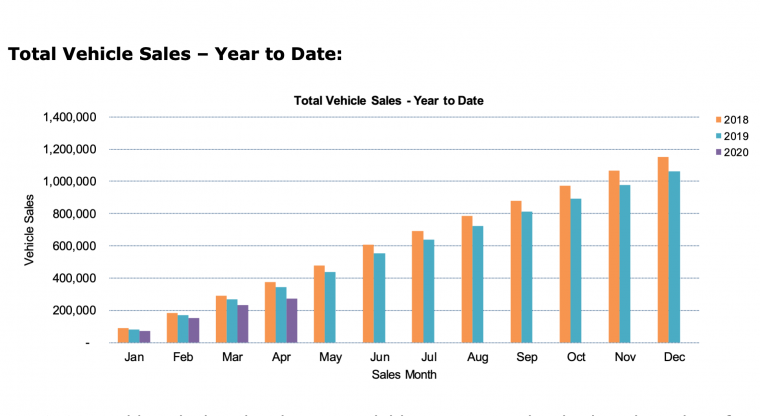 That's a decline of 48.5 per cent over April 2019's tally of 75,550.
It is also the largest single decrease of any month since VFACTs figures were first recorded in 1991. For context, the sales in April 2009 during the height of the Global Financial Crisis were 63,965.
Sales in South Australia, Tasmania, NSW and Victoria fell by 50 per cent. Counter-intuitively sales in the ACT grew 25 per cent, in large part down to replacement vehicles purchased following a huge hail storm.
Nationally, year-to-date figures are down 21 per cent over last year's cumulative tally at 272,287 units. The market has now been contracting for 25 successive months.
By contracting in sales 'only' 32 per cent, Toyota grew its market share to 26.5 per cent and made five of the top-selling six vehicles (HiLux, RAV4, LandCruiser, Corolla and Prado). I believe that's called domination.
Mazda finished second despite falling 60.5 per cent. Stunningly, Kia finished third and beat out both Ford and its Hyundai big brother – outselling the latter for the second month this year.
Mitsubishi finished sixth while declining 63.2 per cent, and amazingly it was BMW in seventh. The Bavarian brand only declined 5.7 per cent as models such as the 3 Series, X1, X4, X6, X7, and new 2 Series Gran Coupe all grew compared to April 2019.
Holden's dealers got rid of 1501 cars, more than half of them Colorados. Nissan declined 51.5 per cent, edging out Mercedes-Benz which rounded out the top 10.
More Analysis and Figures at the
LINK