Discussion Starter
·
#1
·
Automotive News
September 30, 2014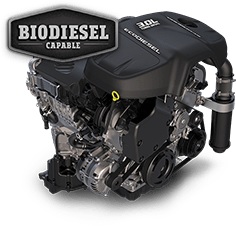 Image Credit: Chrysler USA
Article Quotes:
DETROIT -- Chrysler Group, struggling to keep pace with demand for one of its newest products, plans to boost production of light-duty Ram pickups equipped with diesel engines.
The Ram 1500 EcoDiesel will account for 20 percent of the Ram 1500 pickup's annual production volume, up from 10 percent today, Chrysler said in a statement today, without giving details.
The additional output may help Chrysler win customers from bigger rivals Ford Motor Co. and General Motors. Chrysler says nearly 60 percent of all Ram 1500 EcoDiesel deliveries have been conquest sales from competitors' pickup brands, a notable achievement given the segment's high owner-loyalty rates.
The optional EcoDiesel engine carries the industry's highest EPA highway rating for pickups, at 28 mpg. It has become one of Chrysler's fastest-selling vehicles since its launch in February.
Chrysler doesn't break out unit sales of the light-duty Ram 1500 and heavy-duty Ram 2500 and 3500. The Automotive News Data Center estimates Chrysler's Warren, Mich., plant will build about 335,000 Ram 1500s this year, up 17 percent from 2013 totals.
The company said the increase in EcoDiesel mix will be completed by the end of November at the Michigan and Mexico plants.
The 3.0-liter EcoDiesel V-6 engine is built in Cento, Italy, by Fiat Automobiles subsidiary VM Motori. Chrysler spokesman Nick Cappa said Ram worked with VM Motori to obtain more diesel engines specifically for the Ram 1500 and that Jeep Grand Cherokee diesel production would be unaffected.
===============================================
Automotive News
GM Considers A Countermove: Light-Duty Diesels
January 20, 2014
Article Quotes:
DETROIT -- Steve Kiefer, General Motors' vice president of global powertrain, said he is considering a diesel engine for the light-duty Chevrolet Silverado and GMC Sierra to counter fuel economy improvements due on the Ford F-150 and Ram pickups.
He also said GM engineers are working to improve the cylinder cutoff system already on the trucks. The system turns off half an engine's cylinders when the vehicle is cruising.
The good news for GM is that it has a diesel for its pickups ready to go. GM engineers designed a 4.5-liter diesel V-8, but the project was put on ice when the company spiraled into bankruptcy in 2009.
"We are looking closely at diesel entrees in that segment," Kiefer said. "In fact, I heard the term 'dust off' that 4 1/2-liter at one point. That is certainly one of the options. Clearly, we have a portfolio of diesel engines."
The 4.5-liter V-8 was to be built in GM's Tonawanda, N.Y., engine plant. GM had gone as far as clearing factory floor space and installing the transfer lines in 2008.
Though the engine was advanced for its time, with a single turbocharger mounted between the cylinder heads and other innovations, GM would likely redesign the engine -- possibly reducing displacement -- and adopting the latest friction reduction technologies.