Discussion Starter
·
#1
·
The Aztek: Not so Strange Anymore?
GMInsidenews.com
5/12/2004
Long the butt of jokes, the Aztek - that styling experiment at GM gone awry - is starting to look somewhat normal.
Nissan, Hyundai, Mitsubishi, and even usually conservatively styled Honda have put out their own "stylish" vehicles that make the Aztek look tame - or at least a lot less radical - by comparison.
In the company of new cars like the Honda Element or Mistubishi Outlander, the Aztek is much less likely to draw stares, or leave people with gaping mouths or pointing and grinning. With Azteks even serving as rental car fare, people have gotten used to it.
Interestingly enough, the outlandish looks of the Import Brands models don't get much ridicule. They are said to be tailored for the "youth market", and its left at that, while the Aztek design could have only come from the GM Blanderizer mated to an already strange concept vehicle (Well, they DID take the painted cladding away from the concept...):
No one would suggest that perhaps the styling team in charge of the Element was just as influenced by Marketing Suits and Beancounters as the Aztek was.
Debate on whether the Aztek has been unfairly blasted because it is a GM while equally "exotic" Imports get a "pass" aside, the fact is that the Aztek is in some funky company now. And it gets funkier by the year, while the Aztek is actually turning down the volume and getting...classier?
That's right - less screaming taxi cab yellow and fire truck red, and more subtle, mature colors to tone down the sharp, angular styling, and painted cladding that kills the harsh and unattractive contrast between color and black/gray plastic that the Honda Element actually embraces.
The "Failure" of the Aztek is odd in a way -- it seems that GM was not the only one to think that it looked good before launching it. It is hard to believe that the Honda Element, Subaru Baja and Mitsubishi Outlander weren't at least somewhat inspired by the looks and versatility of the Aztek. Who knows, if the Aztek had been priced 5,000 dollars cheaper, perhaps the Aztek would have been more popular with the youth market it was targeted at, and people at the Car Magazines would have decided that it was good, and simply something they, with their balding pates and salt & pepper beards just couldn't understand (or does that only apply to "hip" Import brands?).
In a market where it blends in better, the Aztek, with its heavy rebates and more subdued colors and cladding - but still its fair share of uniqueness - actually makes for a more appealing choice on the Pontiac lots.
So does this mean that we should hold out hope that the Aztek will get a new 3.5L or 3.9L VVT engine with modern power punch to match its modern looks and "Rally" package inspiration, or that it will suddenly become a best-selling hit that takes the market by storm with people looking for a fuel efficient SUV in these days of 2 dollar gasoline? In a word, no. GM isn't known for heaping money on vehicles it has deemed to be "lost cause" material. The best we can hope for is more meaningless "Rally" updates that may be attractive and neat but are as functional as the Grand Am SC/T's hoodscoops, and equally impotent at drawing in new customers who probably wouldn't notice the cosmetic differences anyway.
What we (and Pontiac) can hope for is that the Aztek will actually go out with some dignity. Perhaps that its functional, and yes, even
attractive
interior and almost over the top versatility -
- will get the respect it deserves. Looking back, I doubt many who haven't already had their opinions molded by the Auto Media will remember the Aztek as anything any more radical in the looks department than the Trans Sport "Dustbuster" Minivan that came before it.
Instead, it may well be remembered as a historically significant vehicle that helped start the whole "versatile crossover" craze. And that deserves at least a bit of respect. Even if it left us with a bevy of strange-looking vehicles from the other Automakers.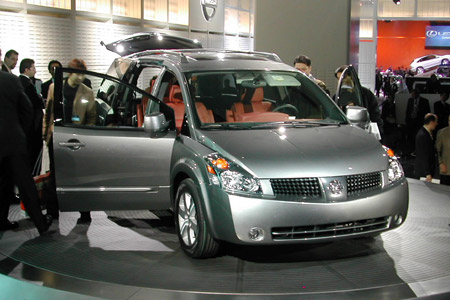 Aztek Link