Just got some information from an insider and wanted to share it.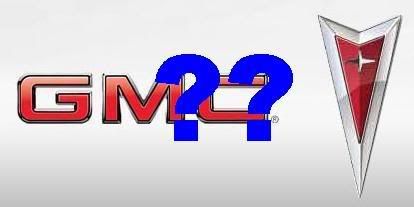 Mark LaNeve and the GM brass can deny all they want about other brands being killed off, but it seems the Board Of Directors will vote in August on both GMC and Pontiac. Nothing is certain at this point, but the brands are slated to be discussed.
As has been reported previously, if the "volume" portion fo the BPG equation is killed (GMC),then it's possible that GM may seek to further consolidate it's franchiese strategy by combining Saturn with the remaining Buick and Pontiac stores. If Pontiac should also get axed, it is even more likely.
Additionally up for review at the meeting is the status of the STS/DTS's ultimate replacement, what was rumored to be named DTZ or DT7. The project may be under review in light of CAFE standards and costs. As more buyers are choosing mid-sized or smaller vehicles and the price of gasoline rises, there is arguably less of a market for large cars like the DTS. Even though the luxury segment has traditionally been immune from these kinds of pressures, experts expected the bulk of sales to come from an expanded CTS lineup. Could GM be looking to avoid investment in a "dying" segment?
Its very possible that GM is looking to reallocate the funds which could have been used on a DTS/STS replacement on another neededproject. It is thought that GM will send about $8 billion on product development this year, but only about $1.6 billion of the $8 billion is new funds, the rest of the $8 billion is from cancelled proects. Could this be the next one?
What does this mean for the Zeta platform-derived products? No one knows, but it appears that the Zeta platform itself is under review -- or at least for North American applications of that platform. Should the Board decided to kill Zeta, the Camaro will be the last car on that platform for North American consumption.
Again, these are hints at what may be coming, but are not by any means the FINAL word. Let's hope we find out more as the meeting date in August nears.