Discussion Starter
·
#1
·
Here is my little review of getting new wheels and tires for my 99 Tahoe online.
I, of course, went to three or four different places around town to check prices and availability. I can't believe some of the prices I was quoted. $1500-$1600-$1700 just for some new tires and wheels? Okay, I am pretty picky and wanted a name brand set of tires ( i.e. no Generals, Continentals, etc. ) I also just wanted a simple set of rims. I am kind of old school and don't like the new 20's. Heck I don't even like some of the 16's and 17's I looked at. Way too over the top for me.
After being disgusted with tires and wheels after looking around town, I decided to hop on the internet. Wow, the choices are just amazing and some of the prices can't be beat. So after looking for a while at various sites, I decided to purchase my wheels and tires online. I ended up going with
www.customwheelsdirect.com
. They had a very simple design layout and easy to follow ordering options and packages. So, for about $300 less ( I am all about supporting local businesses, but come on, $300? ) than what I would pay in town, I submitted my order online.
So I am glad to say that my wheels showed up last night via UPS. They showed up exactly 2 weeks after I placed my order online. They came in four packages with one wheel having a bag attached to the inside. All 4 wheels were mounted, balanced, had center caps and lugnuts. All I had to do was bolt them onto my truck. It took me about an hour this morning to do just that.
All in all, I can say I am pretty happy with ordering my tires and wheels online. I called the company a couple of times and they were always curteous and helpful. I was told it took a couple extra days to get my order processed because this is their busy season and with all the tax rebates, a lot of people were buying wheels. After being a little nervous at first, tt was a pretty good buying experience. I would definitely do it again.
Here is the equipment:
4 BF Goodrich TA/KO 265-75-16's mounted on a set of American Racing Outlaw II wheels
Here are some pics:
Before the new wheels
How they were packaged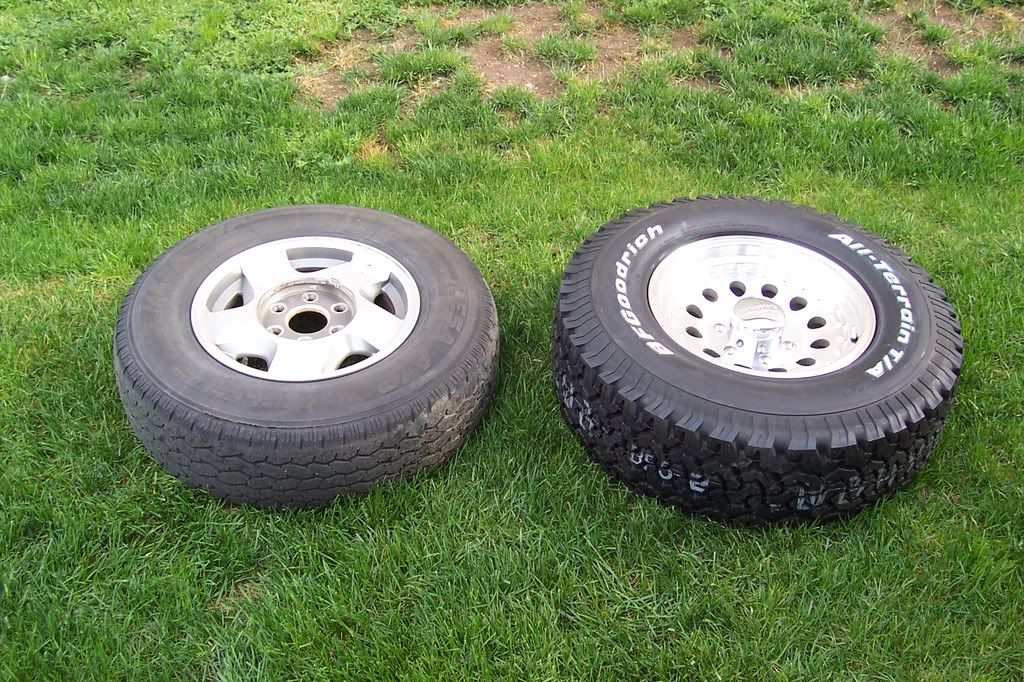 And how it looks now