I thought I would start a bit of an ongoing report on my first new car. A change of employment has meant that I can afford to buy a new car, and have been lucky enough to buy it outright. It's all mine.
Specifications
This is a fairly unique car - not many with the combination I chose. Hence almost 3 months from order to delivery.
2014 Holden Commodore SV6
Heron White
Manual
No cost 'Extras'
Alloy faced pedals
Space saver spare
Options
Sunroof
Satellite Navigation
Side Track Stripes
19" SSV alloy wheels
1600kg tow bar
Accessories
Holden car mats
Holden Sports Armour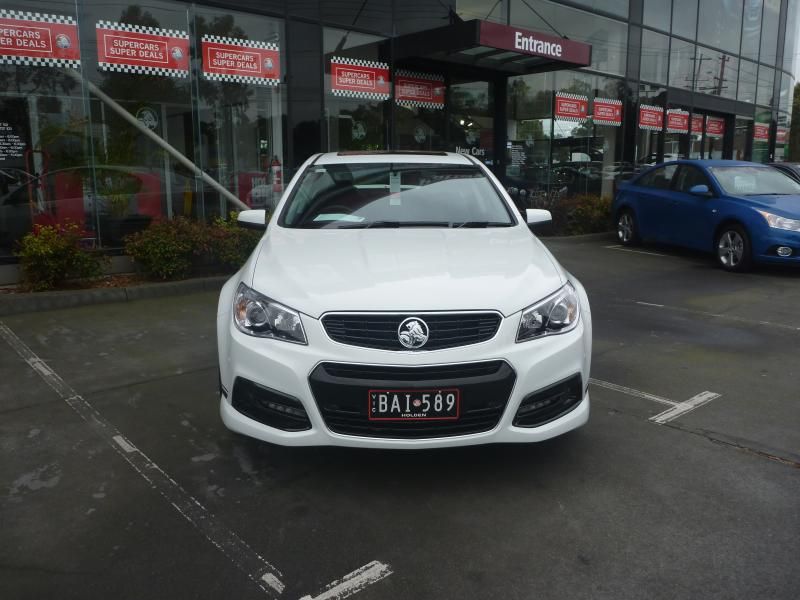 Picking up from the dealer
The dealer experience was a good one, although it was a pretty easy sell for them. I had already made up my mind before I walked in so it was just ticking the boxes for the salesman.
The least number of km I've ever seen on a car
I picked the car up first thing in the morning and drove straight to my first work appointment - about 50km trip. It had 13km on the clock when I picked it up.
As well as the car, the dealer provided a nice gift box with the car.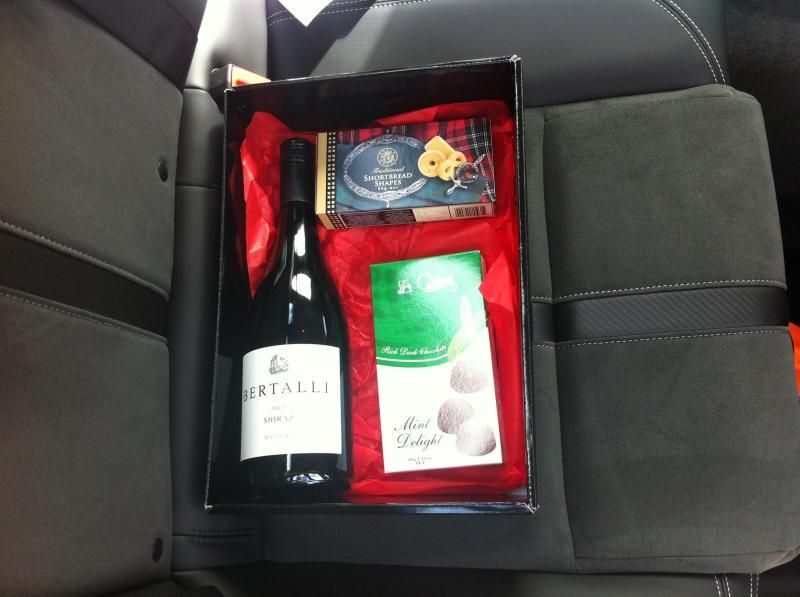 The car felt immediately comfortable, it does not feel big (although I am coming from a VY wagon which some would say was a big car). The first thing you notice (and it brings a smile to my face each time) is the immediate response when you press on the accelerator. It is easy to start the car at the lights in second gear (recommended in the owners manual for economy driving).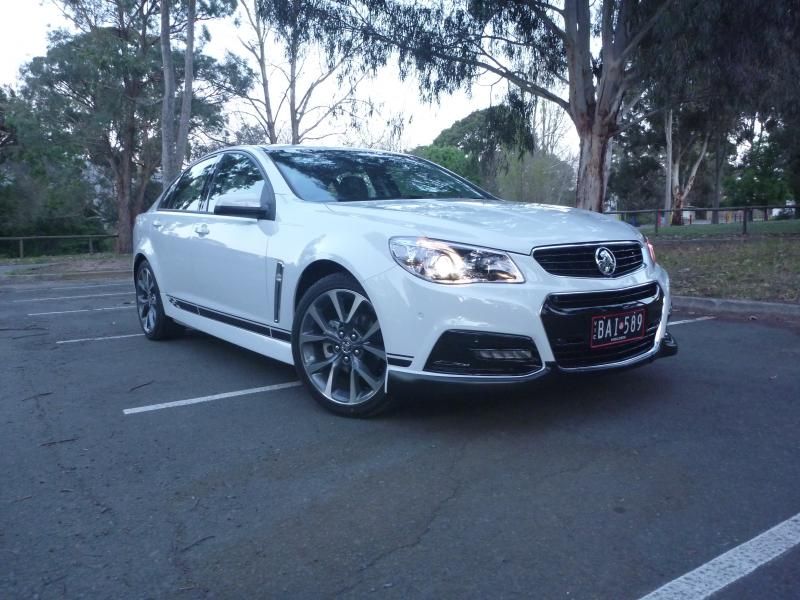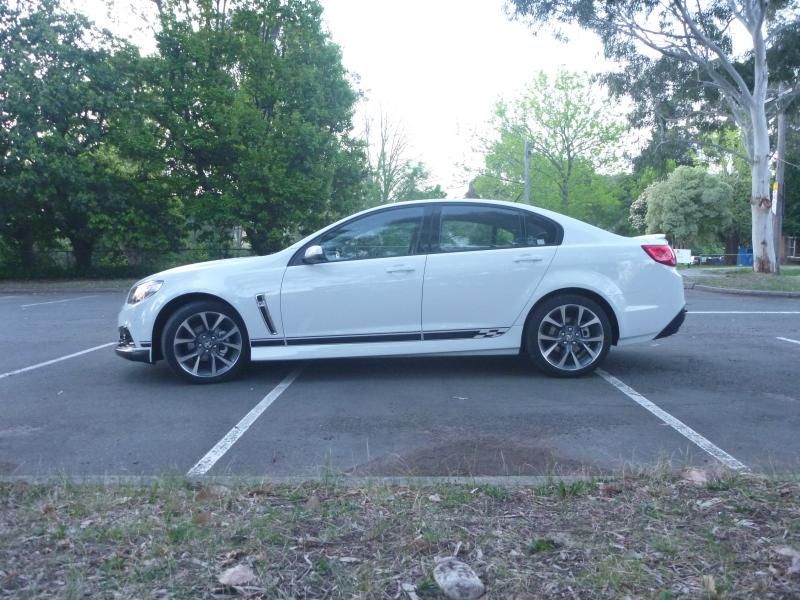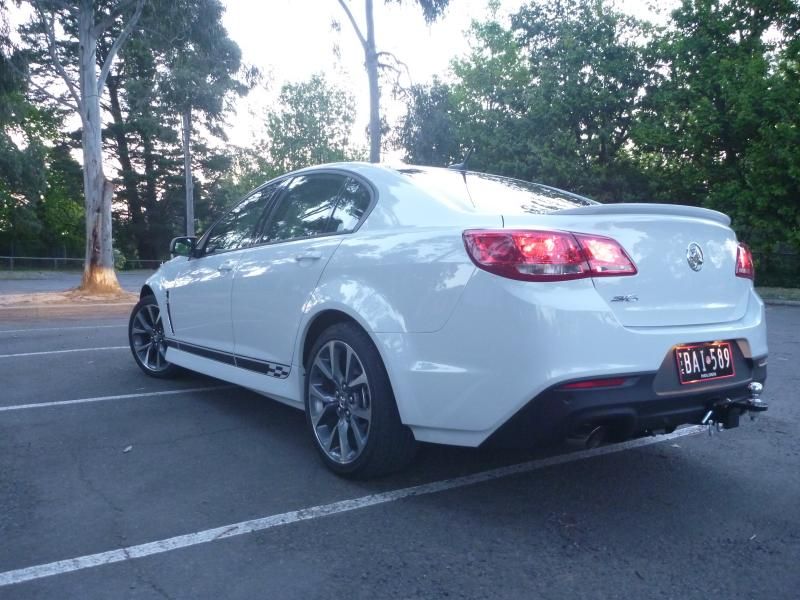 There is a road just near my house, about 15km long, which is a well known mountain climb road mainly for cyclists, but also motorcyclists and drivers. My son used to love going for a drive up this road in my RX-7, he now has a new favorite - he wants to do it in the Commodore. This car is so well sorted, it drives like a small car but with heaps of torque. The manual gearbox is smooth and easy to select gears with. I can drive this car as smoothly as an auto without trying.
I think it looks awesome. I had a guy give me a thumbs up driving past a service station - I've never had that in any other car. IMO, white sets off the VE/VF body shape perfectly. Some of the chrome highlights that look a bit over the top in other colours look more subtle in the white.
The interior is simply stunning. It is so much better than any other Holden, and probably any other car I have been in. The controls are easy to use and you need to take your eyes off the road less to use the HVAC or radio controls. The satnav is easy to use and so far accurate. The fake suede and fake leather (cloth and vinyl to the uninitiated) is easy to clean and I think will be more comfortable in the middle of summer than leather.
Such a comfy place
It's not perfect, I have a few minor niggles, but nothing that would be hard to live with.
- There is no light on the ignition. Probably this is because most Commodores are auto, and the key in the ignition is not necessary to start the car.
- The satnav does not have guidelines - the VE satnav had a coloured grid to help judge distance.
- You can't see the dials from the passenger seat. Most people would see this as a positive, but not when you are trying to keep an eye on the speed a Learner driver is going.
I have done almost 500km in the first 4 days - I'll update once I have a bit more to report.