Discussion Starter
·
#1
·
What exactly was it that made Geo the brand no one wanted to own? Why was a Chevy Cavalier so much more attractive than a Geo Prizm or Geo Storm? Why was a Saturn an intelligent choice, but not a Geo?
I ask you because I was out of country from the year of its launch in 1989, until right about 'death time', when Chevy began offering the Geo Metro, Tracker, and Prizm as its own.
Geo Storm Wagon: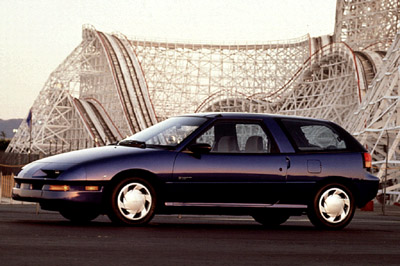 The web is rife with ridicule of the Geo brand, but try hard and you MIGHT find a fan site or two (probably an Isuzu Impulse / Geo Storm site).
How would a GEO of today fare, if say the brand was focused on fuel efficient cars and Hybrids?
----------------------
Feeling the pinch
03-23-2004 9:28 PM EST
Those making their living behind the wheel hit hard by rising gas prices
By Jim Schenke, Journal and Courier
With today's high gasoline prices, drivers' blood pressure may rise in correlation with their fuel gauges.
That's especially true of delivery workers, taxi drivers and others whose jobs involve lots of driving.
Across the country, drivers are paying anywhere from about $1.50 to more than $2 a gallon for gasoline. That's slightly higher than prices of a year ago and about 20 cents a gallon higher than prices seen in January.
Domino's Pizza delivery drivers start out at less than minimum wage in Lafayette and depend heavily on tips. On a busy night they rack up 200 miles on the odometer.
They also pay for their own gas.
Miles Nesmith, 20, of Lafayette said that
unless he puts himself in something as uncool as a Geo Metro, he will spend at least half his tips at the gas pump.
http://www.lafayettejc.com/news20040323/20...080019472.shtml
------------
Some people may recall the Geo brand that was once available in Chevrolet dealerships. Geo was created in 1989 and rolled out with model year 1991 products. There were the small car Metro (based on the Suzuki Swift), the small SUV Tracker (based on the Suzuki Vitara), and the Prizm (based on the Toyota Corolla). The first two were produced at the Suzuki-GM CAMI joint venture plant in Ingersoll, Ontario; the Prizm was produced at the Toyota-GM NUMMI joint venture plant in Freemont, California. And it should be mentioned that just as the aforementioned vehicles have fraternal twins, so too does the Aveo: the Kalos platform, which has been available in Asia and Europe. What does building the Aveo in Bupyung do for Chevy? Well, for one thing, it provides a car that has a starting price of $9,995.
http://www.autofieldguide.com/articles/120302.html