Discussion Starter
·
#1
·
Most Stolen Cars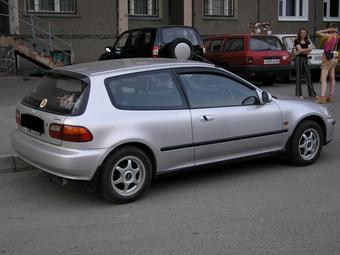 Once again, the 1995 Honda Civic was the most stolen car in America, according to the National Insurance Crime Bureau, but auto theft appears to have declined dramatically for the fourth year in a row.
In its annual "Hot Wheels" report, the NICB said the '95 Civic was followed by the '91 Honda Accord, the '89 Toyota Camry and the '97 Ford F-150 as the nation's most stolen cars in 2007. The top four on the list are unchanged from 2006. For the fourth year in a row, the '95 Civic has been in the top 10.
But overall vehicle theft dropped 8.9% in 2007, according to the FBI's preliminary Uniform Crime Report. Incidences of auto theft have declined nationally every year since 2004.
"The continuing national decrease in vehicle theft is a positive sign that the fight against vehicle theft by law enforcement, the insurance industry and the NICB continues to be effective," said Robert M. Bryant, NICB's chief executive in a statement.
License plate readers, "bait cars," and increased law enforcement funding have helped to dampen auto theft too, but the most effective and simplest way to prevent cars from being stolen is for owners to lock their doors.
"It's amazing to see how many folks get their cars stolen from leaving their keys in them," said NICB spokesman Frank Scafidi. "People should just use some basic common sense."
In addition to using car locks, owners can take a wide array of measures to protect their vehicles, NICB said. The bureau recommends car alarms, "kill switches," and fuel cut-off tools as inexpensive but effective deterrents to theft. More expensive gadgets are available too that will track stolen cars to help police and owners recover them.
"They won't help if someone is determined to steal your car, but most deterrents make potential thieves go to another target," said Scafidi.
Older model Hondas and Toyotas consistently top the list, because of their popularity and reliability. In other words, there are just a lot of them still on the road, making them a bigger target.
Additionally, many of those old Honda and Toyota models stayed the same for years, making them even more valuable for their parts.
"They were the same for two or three model years," said Scafidi. "They're just like the GM cars in the 1980s where you could take the bumper off a Pontiac and put it on a Buick."
Following in the top ten were the '94 Chevrolet C/K 1500 Pickup, the '94 Acura Integra, the '04 Dodge Ram Pickup, the '94 Nissan Sentra, and the '88 Toyota Pickup at No. 9.
http://biz.yahoo.com/cnnm/080709/070908_stolen_cars.html?.&.pf=insurance