Discussion Starter
·
#1
·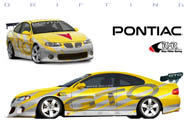 Yes that's right. A bunch of kids and adults in America actually booed an American brand's debut into the sport of Drifting, according to an article in Hot Rod Magazine this month. The Emcee had to chide them and ask them to be quiet before Millen's GTO even began showing off its stuff.
This didn't shock me, but it did boil my blood a little. Laughing or snickering? Understandable. But boos? Are they so brainwashed into the "Import Culture" that the automatic reaction is hostility?
Or is it something else? The rumble of a pushrod V8? Angry that American (or Australian
) muscle will win out over Japanese mainstays?
An aversion to "commercialism"?
I might not "like" seeing Toyota and Honda dominate some American racing series or make their way into others, but I'm not going to boo them --- and the competition only makes GM stronger.
Oh well, at least GM is trying.
Awesome articles in Pontiac Enthusiast mag, etc. on Millen's GTO drifter, btw.
GTO Specs
Engine Type V8 Gen III LS1
GM Racing High Flow Heads: GM Part #88958665
GM Racing High Performance Cam: GM Part #12480110
Greddy 60mm Water & Oiler Pressure Gauges
Displacement 5.7L
Maximum Output 490 HP @ 6007 RPM
438 lb.ft of Torque @ 5406 RPM
Induction Greddy Airnix Filter 200mm
Drivetrain Factory close ratio 6 speed Transsmision
Exedy Twin Plate Clutch & Flywheel
Kaaz Limited Slip
3.91 Rear Axle Ratio
Exhaust 4-2-1 1 3/4 in. Coated Mild Steel Headers
RMR High Flow Exhaust System
Brakes Front: Grex Custom 6 Pot Caliper and 14in Rotor
Rear: Grex Custom 4 Pot Caliper and 12in Rotor
Steering Modified Factory Rack and Pinion
Front Suspension Intrax Custom Adjustable Height and Dampening Coilover
Intrax Adjustable Front Sway Bar
Rear Suspension Intrax Custom Adjustable Height and Dampening Coilover
Intrax Adjustable Rear Sway Bar
Tires Yokohama ES100
Front: 225 x 40 18R
Rear: 265 x 35 18R
Wheels RacingHart CP-F Tune R (Dazz Motor Sports)
Front: 18 x 8 w/40mm offset
Rear: 18 x 9 w/50mm offset
Interior Seats: Sparco Evo (Fiberglass)
Belts: Sparco 3 inch Racing Harnesses- Black
Steering Weel: Sparco Monza
Exterior RMR Front Bumber
RMR Side Skirt Set
RMR Rear Bumper
Veilside Carbon Fiber Rear Wing
Lexan Windows (Front Sides and Rear)
http://www.drifting.com/forums/attachment....hp?postid=56070