Discussion Starter
·
#1
·
Here's part 3:
"Gallery of Voyagers"
1907 Milnes-Daimler Double-Decker Bus
This Milnes-Daimler bus saw service in London around 1904. The chassis was manufactured by Daimler while the body was built by Milnes in the United Kingdom. Until 1907, 400 of these 34 seating buses were produced. A major customer was Vanguard London Motor Omnibus Co., LTD. whose logo is shown on this particular surviving model.
4-cylinders, 5321cc, 28-horsepower @ 1200 RPM, 20 km/h top speed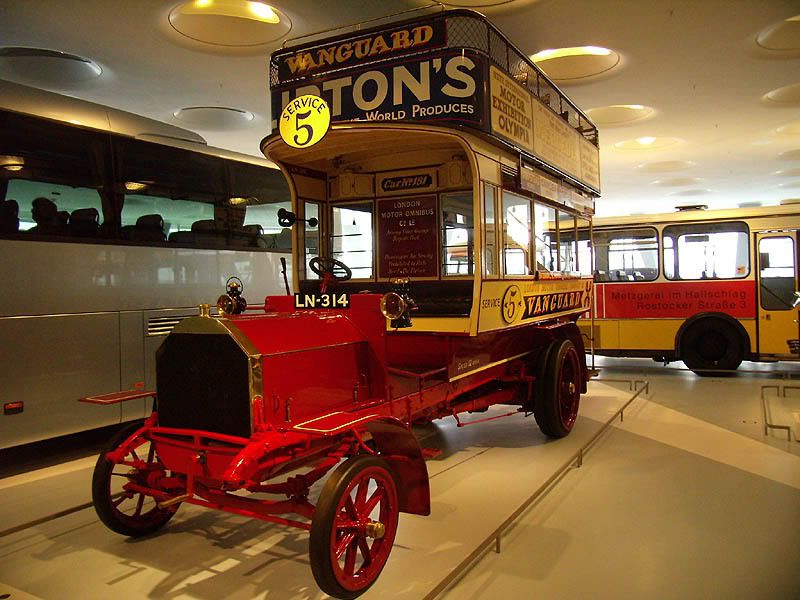 1921 Mercedes-Knight 16/45-PS Tourenwagen
Beginning in 1911, the Daimler-Motoren-Gesellschaft equipped several cars with Knight engines. Invented by the American Charles Knight, the engines featured sleeve valves instead of conventional valves, and their exceptionally smooth operation was very convincing. The 16/45 PS Mercedes-Knight, of which more than 5,000 units were produced, was the most successful Mercedes model until 1926.
4-cylinders, 4084cc, 45-horsepower @ 1750 RPM, 80 km/h top speed
1927 Mercedes-Benz 12/55-PS Pullman-Limousine
The 12/55 PS together with the 8/38 PS were the first passenger cars of the newly formed Daimler-Benz AG to go to market using the "Mercedes-Benz" brand name. The car was extremely spacious and comfortable for its time making it an excellent grandtourer. As satisfied customers reported, it was even great for travelling through the Alps!
6-cylinders, 3131cc, 55-horsepower @ 3200 RPM, 100 km/h top speed
1939 Mercedes-Benz 320 Stromlinien-Limousine
Inspired by the new Autobahn's, Mercedes offered several "streamlined" body styles to the public. The 320 was one of them. Even though the streamlined body had minimal effects on fuel consumption and top speed, the vehicle was seen as a stylish means of travelling. 5097 units were produced from 1937 until late 1942 when much of the German heavy industry had to switch to war production.
6-cylinders, 3405cc, 78-horsepower @ 4000 RPM, 126 km/h top speed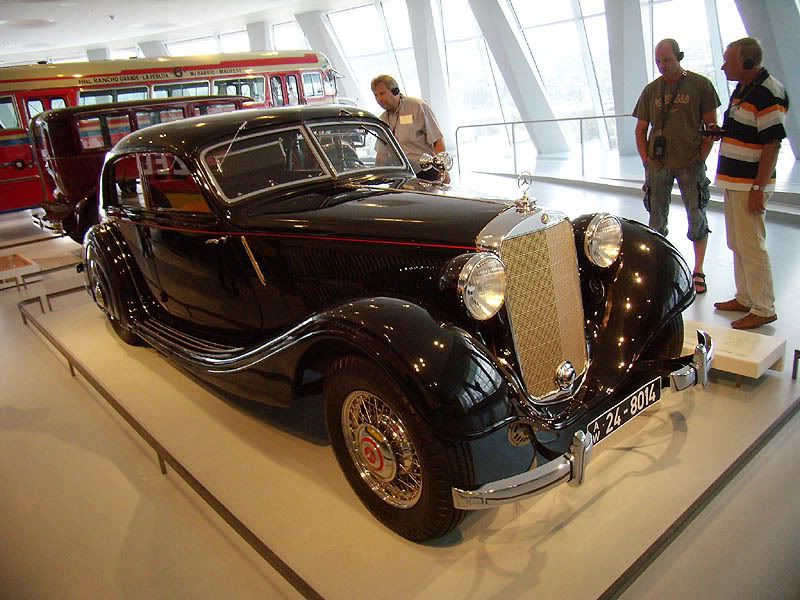 1940 Mercedes-Benz O 2600 Allwetter-Reiseomnibus
The Mercedes-Benz O 2600 is a typical 1930s bus design. Built in Gaggenau from 1935 until 1940, the bus seated 25 people and was often used for comfortable travelling particularly in the Alps.
4-cylinders, 4942cc, 70-horsepower @ 2000 RPM, 72 km/ top speed

1952 Mercedes-Benz O 3500 Allwetter-Reiseomnibus
The 0 3500 was the first Mercedes bus designed after the post war period. The design was still heavily influenced from the 1930s and early 1940s. The model on show was used in Italy for tourists during the 1950s.
6-cylinders, 4580cc, 90-horsepower @ 2800 RPM, 82 km/h top speed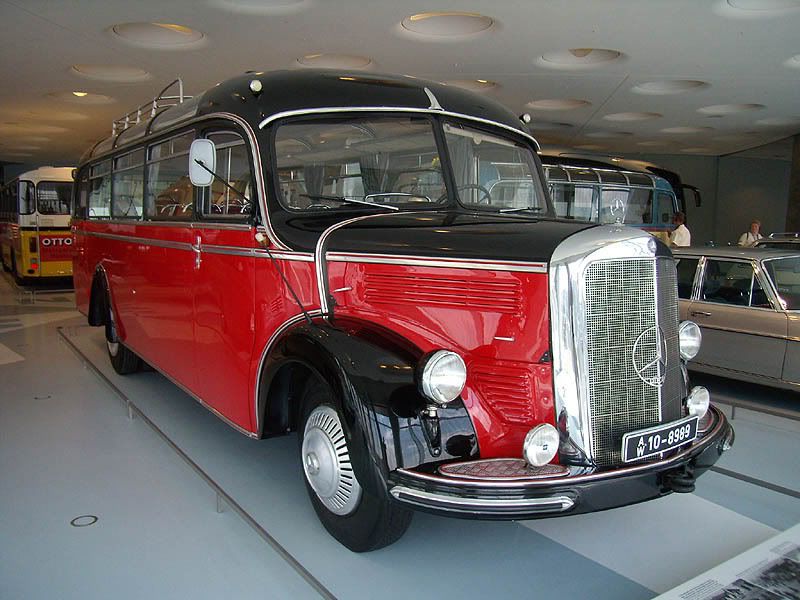 1969 Mercedes-Benz LO 1112 Omnibus
With this LO 1112, Hector Prieto began a career as a bus operator in Buenos Aires, Argentina in 1969. As was customary in many Latin countries, the vehicle was colorfully painted and decorated inside with lucky charms, mascots and souvenirs. This particular LO 1112 originated from the Mercedes-Benz factory in Buenos Aires.
6-cylinders, 5104cc, 120-horsepower @ 3000 RPM, 97 km/h top speed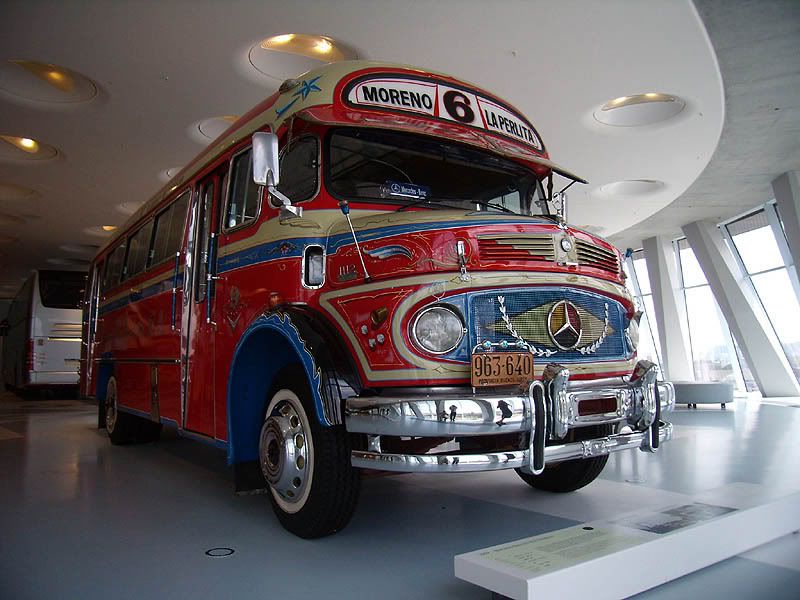 1972 Mercedes-Benz 300SEL 6.3
The 300SEL 6.3 debuted in 1968 as the top-of-the-line model of the W108/W109 (S-Class) range. The engine and 4-speed automatic transmission were taken from the 600. This powerful, comfortable long-distance sedan was fitted as standard with automatic transmission, power-steering and many more extras - not something that could be taken for granted in the late 1960s!
V8, 6332cc, 250-horsepower @ 4000 RPM, 220 km/h top speed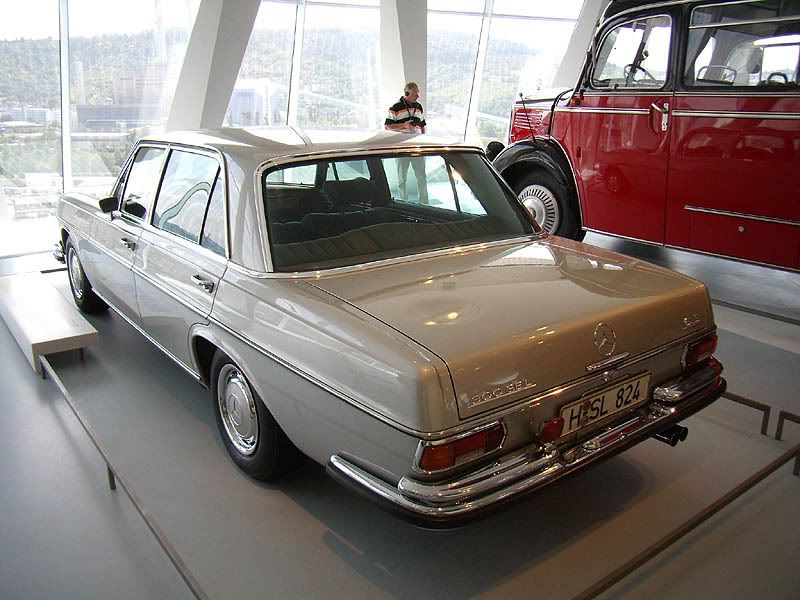 1980 Mercedes-Benz O 305 Standard-Linienomnibus
The Mercedes-Benz O 305 was a popular bus, particularly in Germany where many were used by the major cities. All together 11,570 were made from 1968 until 1987. The O 305 shown was used by the city of Stuttgart where it did more than 1,000,000 kilometers (600,000 miles) until retirement.
6-cylinders, 11,413cc, 240-horsepower @ 2200 RPM, 80 km/h top speed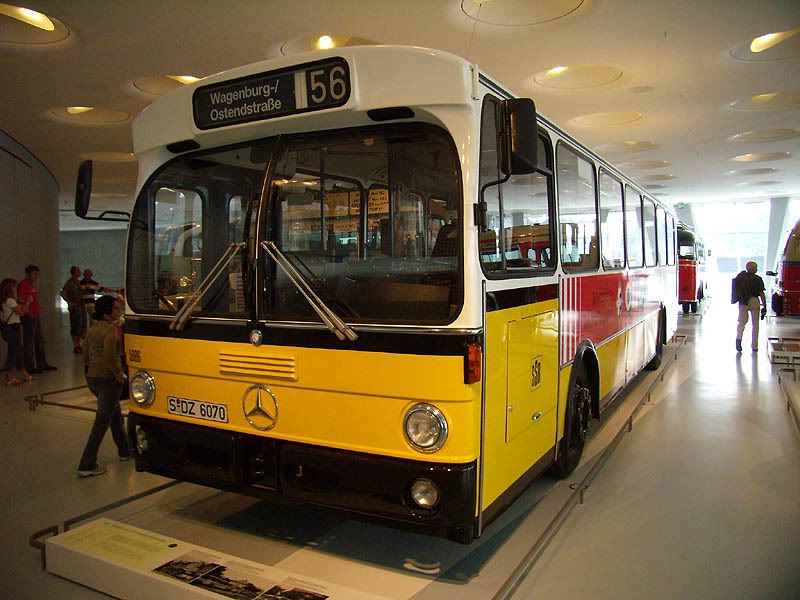 1985 Mercedes-Benz 300TD
When Mercedes-Benz first introduced this station wagon in 1977, it marked the end of the commercial vehicle image of this type of car. Suddenly the estate had become a symbol of wealth and style. The "T" stood for "Touring / Transport".
5-cylinders, 2998cc, 88-horsepower @ 4400 RPM, 155 km/h top speed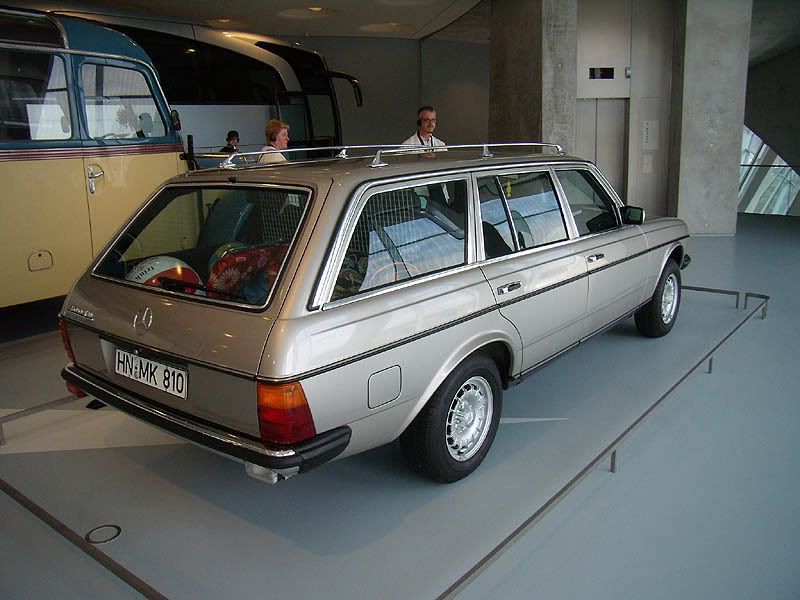 2005 Mercedes-Benz Viano 2.2 CDI "Marco Polo"
What distinguishes the Viano "Marco Polo" from the regular Viano is the camper roof, designed by the Westfalia company. The Viano "Marco Polo" is hence a compact, yet comfortable and spacious touring van that offers its occupants room to sleep and cook.
4-cylinders, 2148cc, 150-horsepower @ 3800 RPM, 174 km/h top speed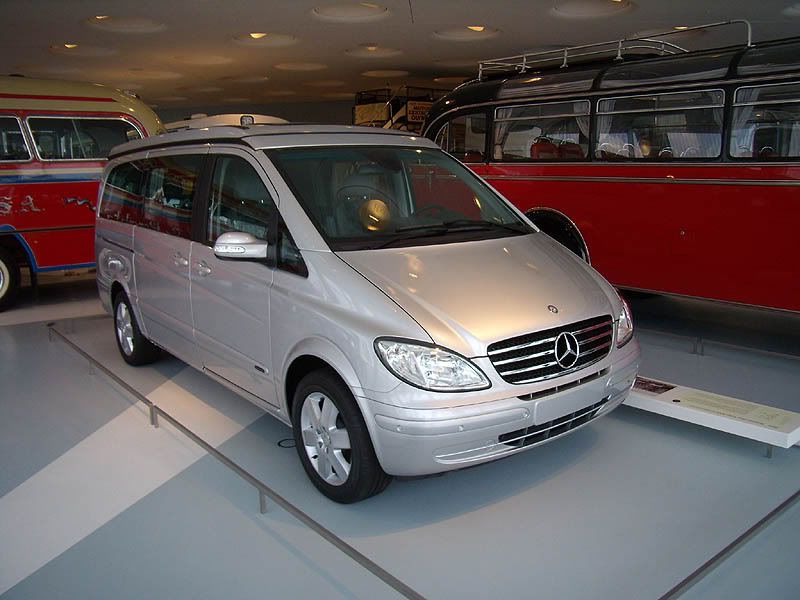 2005 Mercedes-Benz Travego Reisebus
The exhibited Travego bus was the first model ever produced of this new generation of bus and continues the Mercedes tradition of touring coaches. Apart from comfort and economy, the main emphasis is on occupant safety. The Travego boasts a series of safety systems and features previously unheard of in the bus class.
6-cylinders, 11,967cc, 428-horsepower @ 2000 RPM, 100 km/h top speed (electronically limited)