Alright, havent posted any designs here lately. Well, I will have bit more time to come here now, and not be so busy, with my new schedule. So, heres 2 teasers of vehicles I'm drawing. (Note: these are really rough, and just meant to get a general idea in, not really perspective correct, not to scale or anything...no wheels, etc. These are teasers.)
The first one is the 2012 Malibu. Now I know it says "concept", but it's a concept for the 2012 Malibu, that I designed. (Not a concept for the year 2012...) lol this is at least a Pre-production model...
So what I'm going for on the next-gen Malibu. I'm giving it curves, yes. Slim, sexy looking curves for the next Malibu. This car is inspired by waves, (Malibu is also a beach, so waves made sense to me.) and other Chevy design cues.
This car is not going to look exactly like the '09 Nissan Maxima. (or the new Mazda6) before anyone says that. The car will be based on the Epsilon-II platform, Perhaps growing just a bit. Plus, when i mean inspired by waves, I don't mean a bunch of ripples in the body like the Mazda Concept cars as of late. So heres the teaser for that: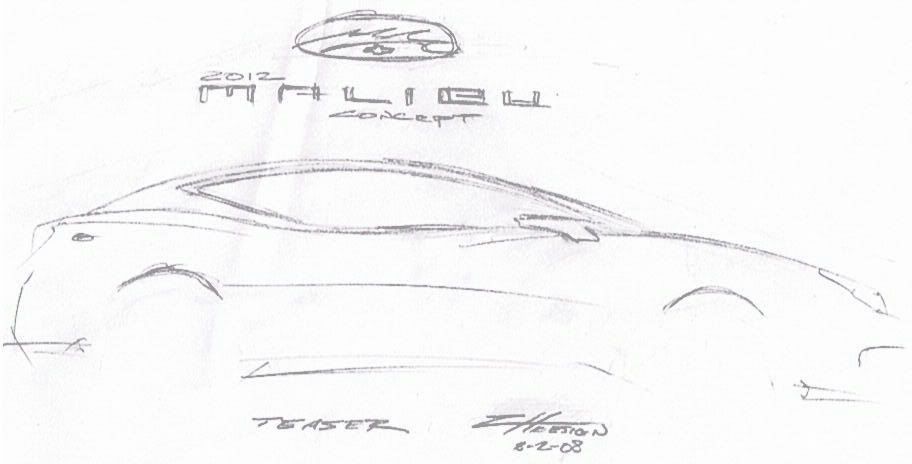 And... next is the Enclave. The next-gen Enclave will be on the Lambda platform. (hopefully they find a way to improve it some more twards the time of the next-gen Enclave.) It features new Buick design cues, as seen on the Riviera concept, and the Invicta. But, they are packaged into a nice elegant free-flowing package. I know the windows need work, but yeah this is rough too...I'll fix the windows. So heres the Enclave:
Constructive criticism welcome.
I look forward to hearing your opinions and maybe taking some advice twards my designs. If some general things seem wrong about the teasers, let me know and i'll see what I can do on the finished project. Tell me what you'd like to see on the future of these vehicles.
Also, Tell me if you want me to bring the Malibu badge with the waves back too, because that is up for a yes or no vote. I was going to have the bowties on the front and back of the car, and the "Malibu badge" on the rear quarters as seen in the picture. If you don't like it tell me. Also, it's drawing is rough too...I know it kinda looks like flames in a circle but yeah supposed to be waves
Alright. I'll get back to sketching, cya later.