I know this isn't exactly a tech question but it didn't really have a forum of which it fit under. (That I saw, sorry if I missed it.)
I have a 1987 Buick Riviera T-Type and I'm trying to clean it up a bit. The vehicle was originally my grandfathers which was given to my father. My father never drove it and gave it to my sister when she was old enough to drive, however, she has spilled make-up and many other things in the car before crashing it into a construction dumpster. I replaced the front bumper and have been driving it since then and decided to fix it up since it's a very nice vehicle and the touch screen computer system still works perfectly!
Before you start using technical jargon, please keep in mind that I've never worked on a vehicle before and could not replace the battery without a few hours to understand how it's being held in place. - Basically, I know how to operate it, check the fluid levels, and wash it off with a hose and microfiber cloth. I've never even changed the oil, I've taken it to be done.
Anyway, here are some photos...
You can click the thumbnails for a larger image.
I've also numbered each area so you can easily help me with a specific one.
As you can see, my back seats look great as they were never used much...
1) In this next picture, you can see that the ash tray still needs cleaned out from where my sister had make-up that spilled in it. Also, as you can tell she did not smoke as there are pennies in the tray. However, my grandfather did smoke so there is a bit of an oder but it's faded out for the most part. Aside from that, you can see some rust and paint chippings. What would be the best way to fix this?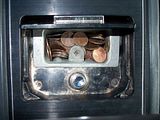 2) This next shot is behind the drivers seat on the floor. My sister said there was a bag with oil and anti-freeze in it. When she lifted the bag, the stains were there...
3) I removed the floor mat to clean under the pedals and realized that the carpet had a stain as well...
4) This is an older picture, I've cleaned this area up a lot since the photo. Anyway, there was a plastic cover that was wrapped in leather that went over that hinge or what ever you'd like to call it where the seat reclines. What would be the best way to fix a plastic mold and repair the torn leather? (Basically the screws were pushed on until the thin piece of plastic broke... If you're clueless as to what I mean, let me know and I'll get a picture of it as well. Basically, it's the same as what happen on the seat controls of which you can see a bit in this picture.
5) In this next picture, I'm really not sure what type of material is used on the door. It's not plastic or leather I don't think, it's very unique and I never see anything like it on modern vehicles... Then again, I don't work on vehicles so I do not see inside very many of them. Anyway, it's stained and roughed up. If there is anything that cannot be fixed to a like-new status in this vehicle, this is probably one of them.
6) Not sure, but I am guessing this one is gum; many, many years ago... Do you know of any way to break this down without ruining the carpet. Also, I'm guessing a solution used for one of the above carpet stains can be used here also to clean out the dirt stains...
7) Just another carpet stain, I'm assuming it's another one that can be removed with one of the suggestions above. However, I want to be sure so I don't ruin anything.
8) On this one, a film like black cover on the gear shift has torn. I'm not sure what material this is made of. I'm sure I could cut a new one out if anyone could inform me as to what type of material it is.
9) This next one has some stains and well, I won't repeat myself. Anyway, there is also an area on it where the carpet is very thin as if it's been worn out. Is this fixable or would I have to replace it? Any idea where I could find an exact match to this one?
10) Here is my drivers side seat, it's a common problem you see on leather seats. However, I have no idea on how to fix it. Could someone please list specific products that you've had good results using and any other information that may not be detailed in the instructions.
11) Here there are some stains on the leather and I'd like to know how to remove them.
12) On this one, you can see that the color is rubbed off on the top of the steering wheel. I'm sure I could spray paint this but I'd like to know the proper way to recolor this.
13) This is a big one in a small size... It seems as if the black around the button is forming air pockets under it. Aside from that, I'm assuming I'd have to disassemble the panel to clean this throughly. Correct?
I greatly appreciate any help and look forward to fixing up this vehicle and learning a lot from the experience.
Thanks a lot!