Discussion Starter
·
#1
·
GMI Interviews: Dave Smidebush
by BigAls87Z28
www.gminsidenews.com
With Pontiac being the center of GM's auto show, and with Buick's increasing popularity in China, I was pleased to interview Mr David Smidebush, Product Director for Pontiac and Buick, about the present and future state of the two brands. We first talked about the Buick brand. Mr.Smidebush commented about the state of Buick in China and did confirm that Buick will merge its design language along with China as well as the next gen Lacrosse will be a world car for Buick. I had asked him about the Lucerne and how the dealers wanted a front wheel drive car as supposed to a rear wheel drive Park Ave, and I asked him how come we did not get what seems to be the better of the two, the Park Ave? He said that since the Holden WM Park Ave production cycle did not sync up with what Buick needed for a large sedan, that Buick went with the more traditional FWD lay out. He did also mentioned that in the future, if the production cycles are timed together, that Buick would look into placing the Lucerne on the WM or Long wheel base Zeta platform.
I then asked him about the Buick Enclave, the sure winner of the Buick line up. I also asked him about a possible smaller 5 passenger version, something that would take the Enclave's design language to a smaller package. He talked about how the Enclave is doing very well against the Acura MDX, which seems to be who Buick has identified as its main competitor, and he said "That Buick could do a RDX fighter." I asked him if Buick can see an entry level car below Lacrosse to which they were still looking at it for North America. Clearly they need one in growing markets, but with Buick being a more niche brand, and Pontiac having two smaller cars, it does not seem logical. I also asked him if Riv hit production, would Buick like to keep with the front wheel drive mind set, or go rear wheel drive. He responded with that the car is set up to where it could be put on both, and that we would have to wait for the reaction of the concept across the world. A FWD model would be geared to be more of a smooth riding coupe where a RWD version would be geared around a bit more performance. It seems that if a RWD version would be made, that a G8 coupe would be a tough case. Buick seems very interested in people's reactions as they are taking this car global. Mr.Smidebush also said that the Invicta concept will take the Riv concept's look to the next level and that everyone at Buick awaits the response of fans and critics.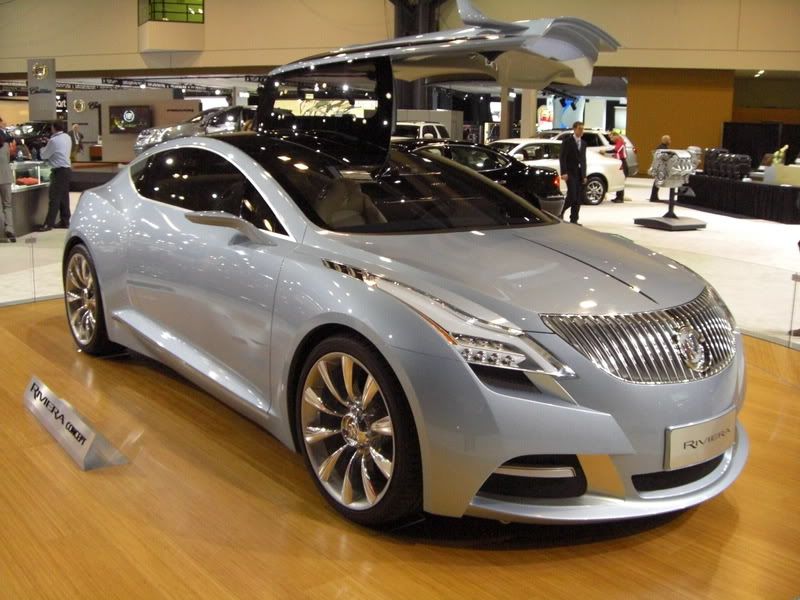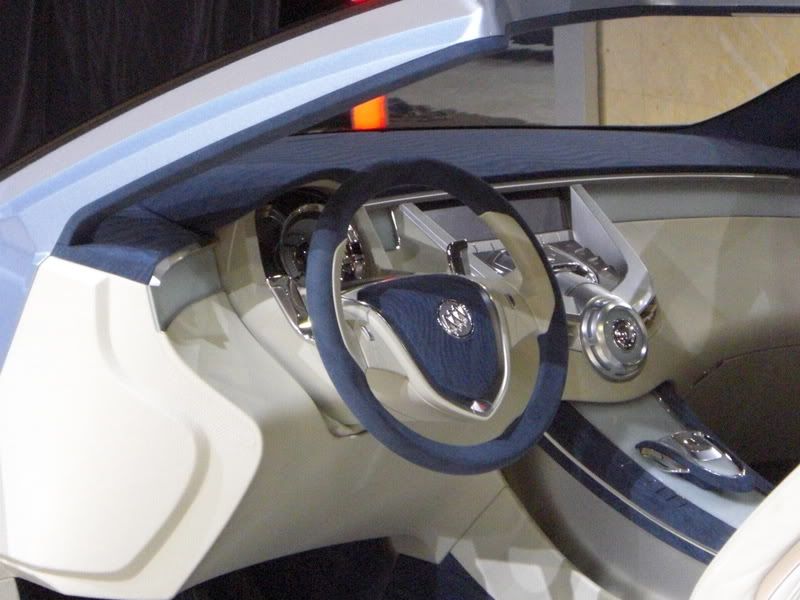 Over at Pontiac, we talked about the unveiling of the three new cars, the G8 GXP sport sedan, G8 ST sport truck, and the Solstice Coupe GXP. There was also the new G8 GT sedan and Vibe GT models to round out the new line up of Pontiac cars. We talked first about the Vibe GT model. As we know, the car shares its platform and power train from rival company, Toyota. I asked him about the possible use of GM power trains such as the Ecotec 2.2 VVT that out powers the Toyota 1.8 and 2.4 engines, while getting better gas mileage in cars like the Cobalt and G5. He said at this time, with the way contracts are set up with the NUMMI plant that the Vibe will continue to use Toyota parts and that will continue for the future. Mr.Smidebush was also excited that they brought back the GT and AWD models, two models that were removed from the last generation. Both of these are great additions to the lineup, and offer AWD abilities to make a compact crossover for Pontiac. The Vibe's new cartoonish design does not seem to fit with Pontiac's sleek and conservative approach, but will appeal to the younger crowds. I talked to Mr.Smidebush about how the Vibe and G5 share the compact slot, and he said that the two are very different cars, and will appeal to two different types of car buyers. I also asked him about the future of G5 and will it receive the 2.0 liter turbo engine that is in the HHR SS and Cobalt SS. He responded that there are no plans for the LNF to make its way into the G5 at this time, which needless to say is a downer for the Pontiac performance image. We moved to the G8 triplets, the flagship series of Pontiac.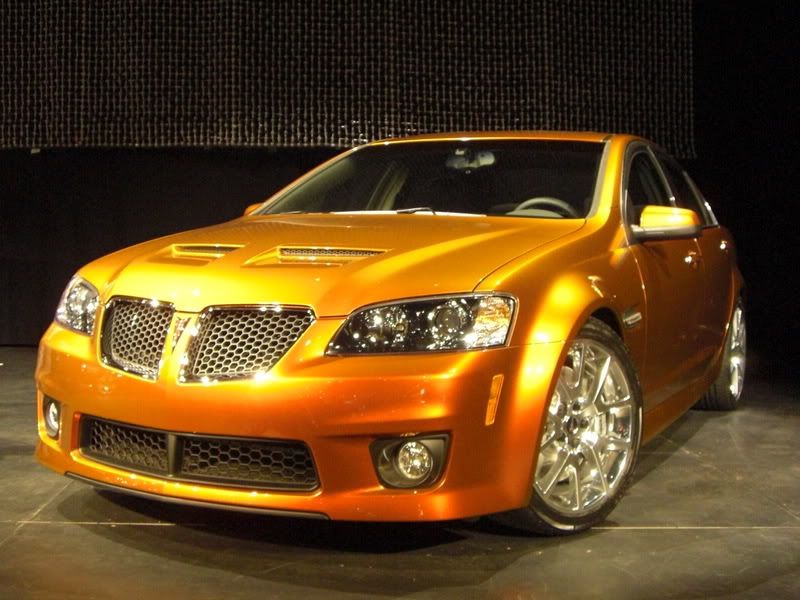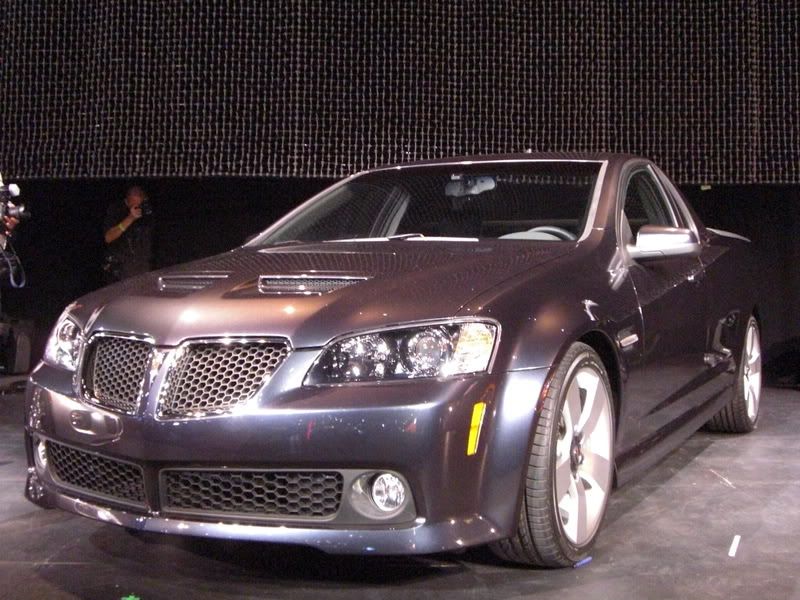 Starting off with the G8 GT, in a daring red color, Mr.Smidebush commented that he is very happy to read the reviews of the G8 against it cars like the Charger RT and even a comparison with a BMW 550i. To up the score, Pontiac has turned the heat up on the G8 with another addition to the GXP line. Mr.Smidebush and I talked about its performance importance for Pontiac, to have such a performance sedan for what will probably be a relatively affordable price. He was very enthusiastic about the addition of the Tremec TR-6060 six speed manual transmission, something that the enthusiasts have been begging for since G8 showed its face on US shores. I asked him about the GXP's rather small visual enhancements when compared to its Holden brother from HSV. The GXP model gets a minor revision of its front, rear and side ground effects. Its major visual enhancement comes from new 19 inch wheels, and behind them are massive brakes. We then looked at the anticipated G8 Sport Truck. It carries the same equipment as the G8 GT sedan, only with less doors and a bigger trunk. I asked him, since we are getting GT trim only, will we see a 6 speed manual trans in this or will it feature the same drive train layout as the G8 GT sedan. At this present time, there are no plans to put a manual trans in the ST, but they will research it and look into any type of demand. Even with that, due to the fact that car will have such a low production number, it would be costly to offer that type of trans and have it certified for production. Bummer...I know. He knows too, trust me. We then walked over to the Solstice Coupe, and he was glowing with pride over the design of the new hard top. When asked about the G6 model, he did not confirm any type of revision or enhancement that will come any time soon. The G6 is in its third year, and still growing in sales numbers. With the full line of all three cars out now in full swing, the car is still a big seller for Pontiac. I guess we will have to wait for a second generation for a new G6. We talked about Pontiac in the future, and if Pontiac will move towards using rear wheel drive or front wheel drive? While he cannot comment about future product, he said that Pontiac is clearly interested in both areas, and that both areas will offer its benefits to the market. They will also be looking at ways to lessen its CAFE footprint with advanced power trains. He made no comment on hybrid systems, but with GM moving more eco-friendly cars, it would not surprise me that all brands within GM. Both Pontiac and Buick's future are still unclear as these new cars are only a small part to push the respective brands forward. We will have to wait what the future brings Buick in terms of the next gen Lacrosse, the Riviera, and possible vehicles like a 5 passenger SUV and a large sedan to replace the Lucerne. With Pontiac, its future seems a bit brighter if it can remain focused during the times of increased CAFE. I hope that Pontiac understands that performance does not have to mean tons of horsepower and gaudy body cladding, but a well balanced machine both performance and design. I thank Dave Smidebush for his time and thank you GMI for reading.