GMI At NYIAS 2008: GM Edition
By Bigals87z28 and TaHoE
Big Al
: Its that time of year, the New York International Auto Show and this year the NYIAS team of Big Al and Tahoe hit the show, ready to take a look at all the new cars GM has introduced this year, the new cars that they are introducing at the show, and all the rest of the companies new entries. GM brought three new models to NY, all for Pontiac. The Pontiac G8 GXP, G8 ST and Pontiac Coupe/Targa. These cars were front and center, and the press swarmed over these three hot cars. Other notable cars from Pontiac was the all new Pontiac Vibe. Pontiac brings back its popular hatchback wagon as well as two former trim levels, the GT and AWD model. Using more powerful Toyota sourced engines, this new generation hopes to be move up the performance bracket. From GMC, the Denali XT concept was on hand and what a great looking truck! At Buick, the Chinese Buick Riveria was there to splash some life into Buick's lay out. The car definitely carries the Buick design theme further. Over in Chevy, the floor was dominated by a giant lay out in which the center piece was not the Corvette, not the Camaro, not the Silverado, but by the Volt. Surrounded by the Volt were hybrid and alternative fueled vehicles. The Corvette ZR1 was tucked away in the corner, away from the big gas friendly display. Sadly, there was no Camaro there to drool...err..look at. At Caddy, the CTS-V took center stage, showing off its unique sheet metal, its big wheels, and massive brakes. The Provoq stood just to the right, showing the design direction of the upcoming BRX small sport utility vehicle. The Provoq's design took the CTS's design a step further and added more science with its plug in hybrid power train and other features. At Saturn, the Flexstreem was their main focus car, sporting two segway's protruding out of its rear. Saturn displayed its full line up of cars from the Astra to the Sky Red Line.
Tahoe:
I must say that last bit about the segway diesel droppings is pretty good Al, but lets get down to the basics, what did you think of the "WE ARE GREEN" stand at Chevy.
​
Big Al:
Well yes the "We are Green" center there was a nice lay out...but it was sad that its big debut at Detroit, the ZR1 Corvette, was stuck in the corner like a ******* child? The Z06 model, wearing a beautiful coat of Jetstream Blue (a homage to the ZR1?) didn't even have its own platform. It was on the floor like the rest of the cars from Chevy. Not bad, but just jamming the Corvettes over to the side was rather sad. The Icon of Chevy has been put on the back burner while CAFE fueled Eco-Cars took center stage. I will add that the Traverse is actually a really nice looking people hauler...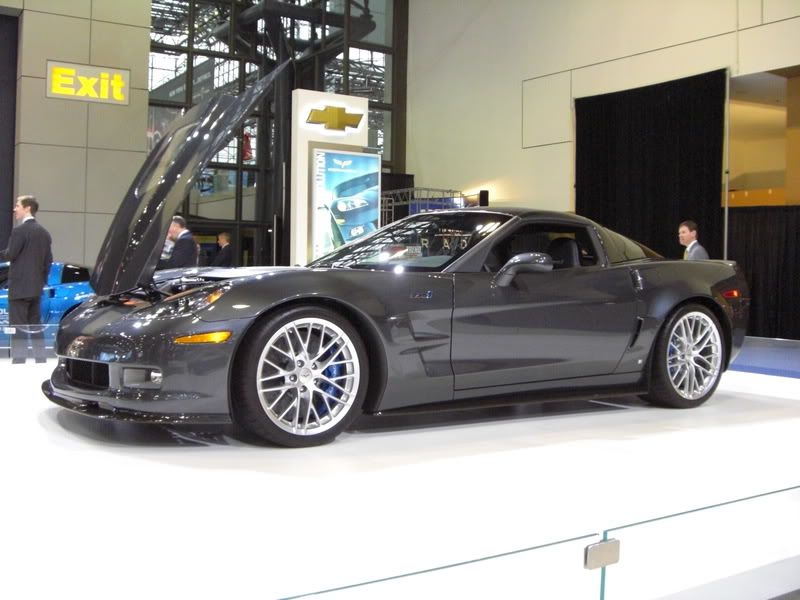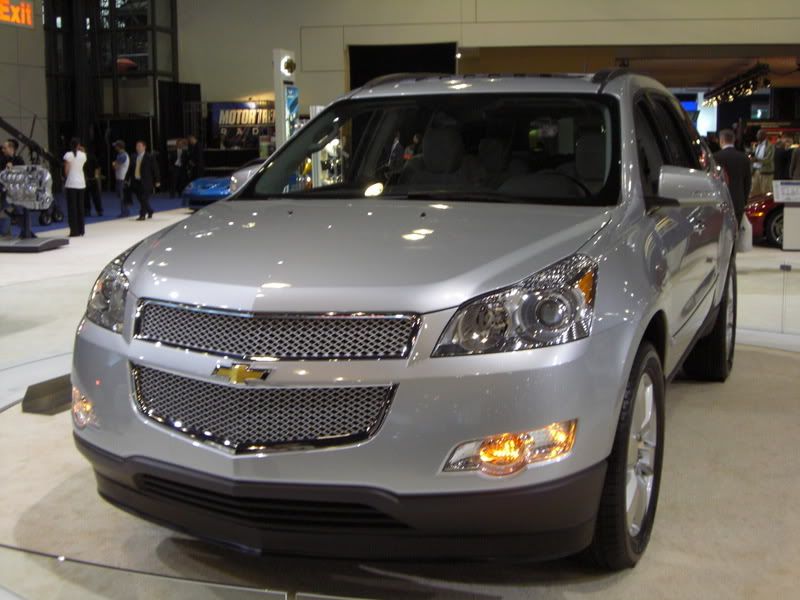 Tahoe
: I agree. It's a sad time when a 625+ BHP icon (probably the last iconic Corvette) is overshadowed by a 5-year away 4-door econobox. I must say though, it is something GM had to do. Toyota already has the green image, Chevy needs to get it. I mean, the amount of reporters that were there asking GM questions was staggering. However even more shocking was the lack of attention at the ZR1. Maybe they should have nailed a 3-wing airfoil in the back to get some attention, like the Nissan GT-R.
Big Al:
Oh..don't get me started on the King of the Ricer's! Thats for another thread. There was one GM brand that was excited about its performance, and that was surprisingly Cadillac! The CTS-V taking center stage, sitting there as if it was bored of being looked at. It wanted to get out and scare your neighbors M5 and E63.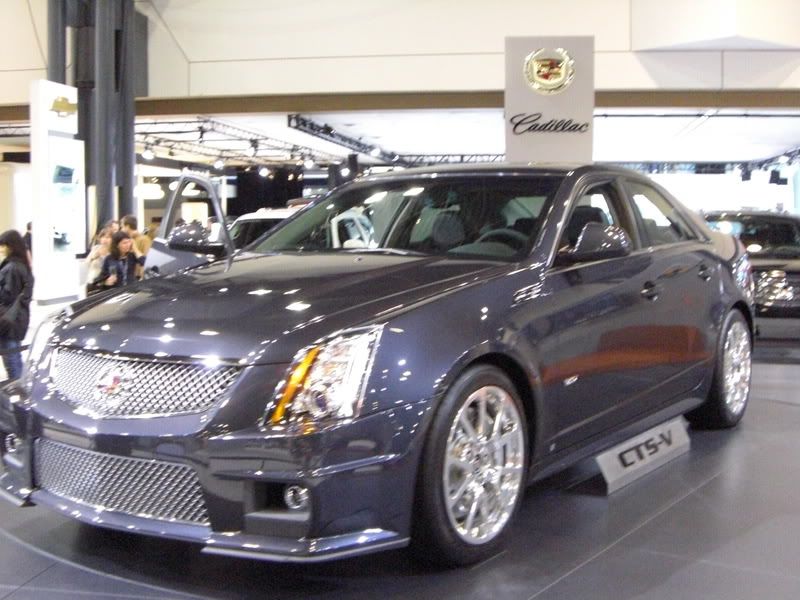 Tahoe
: I totally agree. The CTS-V looks like it could eat an M5 for breakfast, feast on a trio of E63s for lunch, and devour a family of RS6s for dinner, while still leaving a little room to punish the IS-F for dessert, just because it's quad exhaust is so embarrassing. The CTS-V really is an amazing machine, and the size of those rotors were unbelievable! I just hope GM is able to translate the success they had with the CTS-V into capable STS and XLR-V replacements. I must say, I also enjoyed the Provoq concept a great deal, much more than I thought I would...it looks really good, much better than an RDX.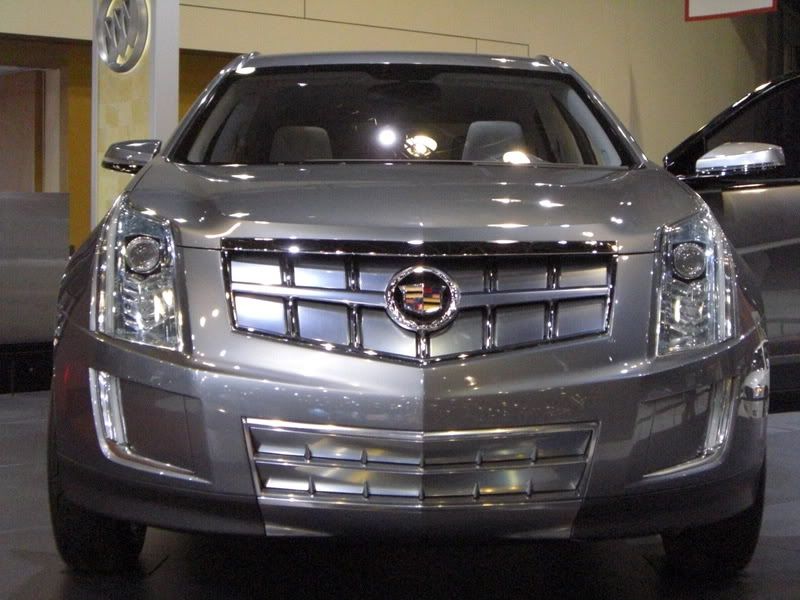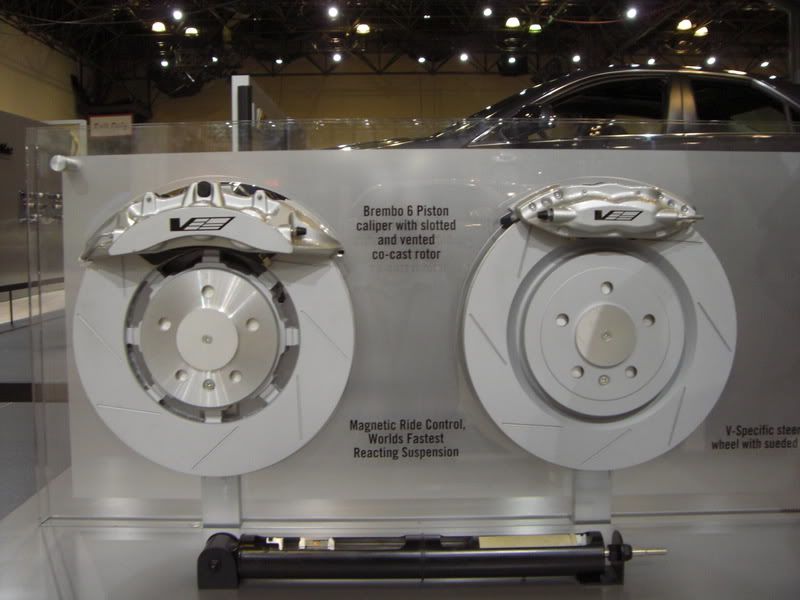 Big Al:
the Provoq was a very nice looking compact SUV. It will appeal to a lot of younger buyers who like the CTS's style, but want it in SUV. This is going to be the second car wearing the second generation art and science design, and it wears the look well. The Provoq's design isn't the only thing looking forward, its advanced power train shows what hope Caddy has for hybrid power trains and that they are not scared to enter that arena. Over at Buick, it was a bit more silent. Its only major attraction was the Buick Rivera concept, and man that thing is a really sharp looking coupe!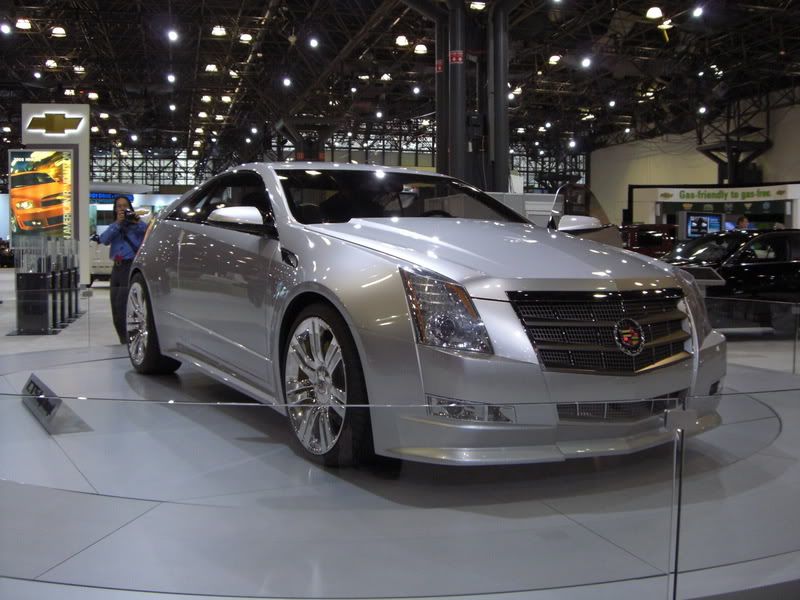 Tahoe:
I agree Al, Buick was mostly dead. I just wish there were more people to speak to in regards to the Riviera and it's chances of making a comeback in the States. I really hope Buick brings it back, they need some life in their car line. The LaCrosse looks so dated, it's amazing how fast their cars age. I would love to see Caddy take aim at BMW directly in terms of performance and handling, and Buick aim at Lexus/Audi/Infiniti in terms of smoother design and softer ride quality. More focus is needed in these two brands, something I am glad Pontiac is finally getting.
Big Al
: I did get to speak to Dave Smidebush, Head of Pontiac and Buick Product Development and he was very excited about the Rivera concept that debuted in China. He was also excited about the upcoming Invicta concept. There seems to be a lot of excitement from Buick. I will get into some more detail as for what I talked to Dave about regarding the future of Buick later. Pontiac was definitely the head of the show, with its debut of the three new performance machines, the G8 GXP, G8 ST, and Solstice Coupe in GXP trim. The trio, on top of the G8 GT on the floor, has in one swoop flushed away years of Trans Ports, Montanas, Azteks, and a solid decade of awful plastic body cladding. Pontiac has not had a line up this solid since the 60's.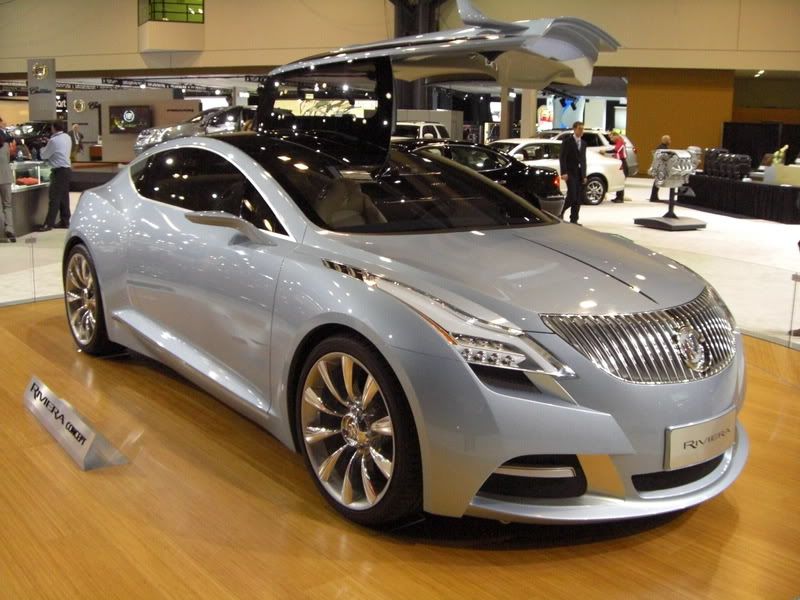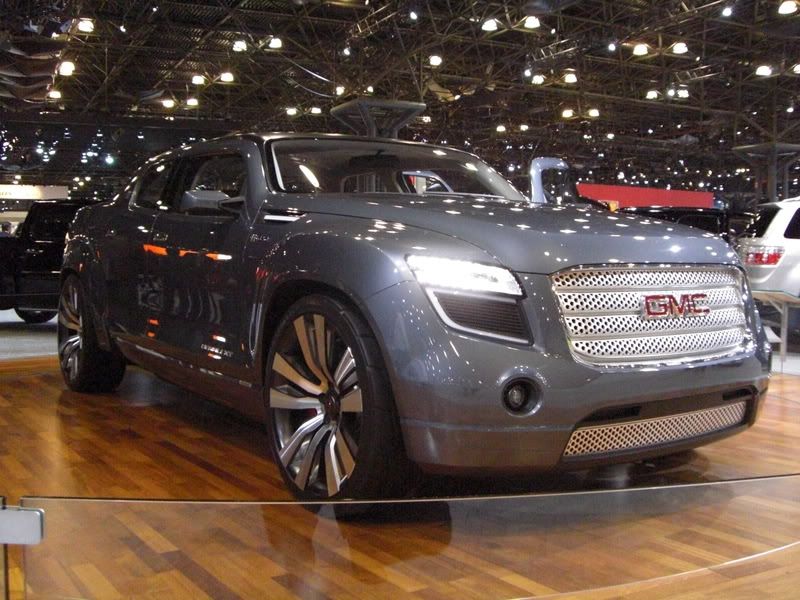 Tahoe:
I absolutely agree the Pontiac lineup is stronger than in the 90s, but there still is the issue of the boring G6 lineup, and the cartoonish new Vibe. Pontiac may have been given a second chance at life but they still have G5s and G6s that need massive updates. I still think GM has a lot of work to do with Pontiac. I also think that there NEEDS to be a G8 Coupe of some sort to strengthen the G8 lineup. I also hope that Pontiac is able to deliver successful performance and handling across the board like Mazda, and not in only certain vehicles as they do now.
Big Al
: The Vibe is odd looking, but a cool car for Pontiac to have. There is that odd crease down the side of the car that does not match from front to rear...just looks cheap and silly. G5 and 6 do need updates, but I don't think we will see one till next gen platforms as they are far behind not only the competition, but over its fellow cars from GM. As for Pontiac NEEDING a G8 Coupe....it would be nice but I don't agree that they need it. A sporty coupe could fight with Camaro for market share, volume, and for funding. Pontiac does need to have a consistent push towards outstanding performance. People must know that when they buy a Pontiac, its going to be built for people looking for more performance. To sacrifice some of it for the sake of a broader base market, then you are just going to sacrifice the brand and its image.
You know what bothers me the most, and it has been going on for a few years, is the design and lay out of GM's brands at the NY Auto Show. What a dull, boring, bland, display of beautiful cars. Comparing them to Ford's very beautiful lay out of cars, with TONS of lighting, and displays of thier concepts raised above the already raised floor, looks so much better then everyone. Caddy's lay out was small, dull, and boring. The CTS-V's display was bland, no major lighting, and no major way to attract people into the show. They had 3 or 4 Escalades hiding behind the CTS-V's display almost as if they were just placed there as a buffer from Saab and Hummer. And with Hummer and Saab having 2 of GM's smallest lay outs, they looked the best! Saab has a very Swedish, very Euro-Chic looking set up which fits the supposed image of the brand.
​
Tahoe:
Okay, perhaps need was too strong a word for the G8 Coupe...but I definitely think it would strengthen the appeal of the G8 Lineup if a bare-bones racer version of the G8 in coupe form were available. Camaro could be serious, but more comfortable...I dunno. Makes sense to me.
​
​
I have got to agree with you about the GM displays, SAAB and Hummer (Well frankly, more SAAB...I don't recall Hummer having much to brag about besides the HX), really had great displays. SAAB always does the Euro-Chic thing well, if only GM took the rest of their brands more seriously. Ditto the GMC brand. Why not have stainless steel displays everywhere with glass structures, I dunno....something professional grade looking.
​
All in all, I must say GM has some really exciting products coming out, but in terms of strengthening brand image, there are several brands (Pontiac, Buick, SAAB) that have quite a lot of work ahead of them, but I am glad to see that they are on their way (G8, Enclave and 9X Biohybrid respectively). GM needs to get their arse in gear when it comes to presentation so that us GM fans can proudly walk around bashing all the obnoxious competitors to the ground. You can find that article here!
​
Pics and Recap of NYIAS 2008 by Big Al and Tahoe.