Discussion Starter
·
#1
·
GM Daewoo to Be Global Hub of GM Engineering, Design
By Bae Keun-min
Korea Times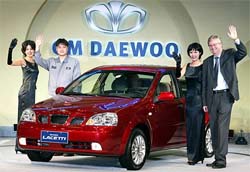 GM Daewoo Auto & Technology will be a center of design and engineering development for General Motors' global network, the top GM executive said on Friday.
In a new conference in Seoul, GM chairman and CEO Rick Wagoner said GM Daewoo is already playing several functions for GM and will further act as not only GM's leading sponsor for China and the Asia Pacific region, but also for GM's global operations.
``GM Daewoo's engineering, research and development and design centers are key components of the GM global product development organization and a valuable resource for the development of new products,'' Wagoner said. ``We are going to use resources here extensively.''
GM Daewoo president Nick Reilly said it demonstrates his company's value in the GM network that GM Daewoo hired 200 new engineers since the beginning of the company.
Wagoner added that its design staff will also be expanded.
In March, GM announced that it would be investing 1.74 trillion won in GM Daewoo with plans to use it as a global strategic engineering hub.
According to the investment plan, the automaker will hire 1,000 workers in accordance with the construction of two new production facilities, expansion of existing plants, introduction of three new models and diesel engine development.
In May, it concluded the takeover of Daewoo Powertrain, a transmission-producing company, and launched next generation transmission development with an investment of 420 billion won.
In addition to the 1.74 trillion won investment, GM plans to invest more but has no specific plan at the moment.
As for the sales bidding on Ssangyong Motors, Reilly said, the company is ``not intending to participate in the Ssangyong bid.'' He added the Shanghai Automotive Industry Corp., which runs Shanghai GM based on a 50-50 joint venture with GM, is aggressively participating in the bidding.
Wagoner left the peninsula yesterday after wrapping up a three-day visit. He met President Roh Moo-hyun and talked about a broad range of topics, including the introduction of the Euro IV standard vehicle here, China's effect on the Korean auto industry and economy, and the Korean government's auto industry policies.
Full Article Here
Also See: GM Says GMDAT could be "Asian Hub"