Fiat takes Zastava, GM empty-handed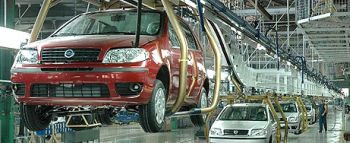 According to various news reports, the Fiat Group has reached an agreement with the Serbian government to take over Serbia's only automaker, Zastava, through a 70/30 JV (70% going to Fiat). This comes after four months of negotiations with potential partners following the official announcement that Zastava is for sale. Among the possible buyers only two were seriously considered to be interested, namely Fiat and GM, which both have licensing/assembly agreements with Zastava.
For more, got to Italiaspeed
An earlier
report
stated that the plans for Zastava include introducing a new model of a very small (and presumably, very "affordable") vehicle based on the successful Fiat Panda mini car (think smaller than Aveo). The vehicle was also announced before the Zastava deal, so it seems now that everything is said and done, it found a home.
Does that mean Fiat will try to turn Zastava into another Dacia? Will they be willing to keep the Zastava/Yugo name, or are the rumours of reviving the old Innocenti brand for that purpose substantiated? On the one hand, the demise of Innocenti actually gave birth to Yugo - the old Innocenti 120 body was sent to Serbia to form the Koral, or Yugo 45/55, together with Fiat 127's and 128's underpinnings. On the other - nobody really remembers Innocenti, and it has a rather different background...
Related GMI stories:
Innocenti or Autobianchi revival? 2 new, small Fiats coming for developing markets
Buying cheap brands, getting cheap labor: Fiat to start talks with Zastava
Zastava (Yugo) for Sale
GM & Zastava Automobili start joint venture program in Eastern Europe
GM in Talks with Serb Zastava Over Opel Deal
****
Now, what does it mean to GM?
First off, let's look at the Kragujevac's Zastava plant production programme:
1. Yes, the world famous Yugo Koral is still alive, now as Zastava Koral In, a bit tarted-up but still the same car Mona drowned in:
2. A larger Zastava Florida In (also originally Yugo Florida), a once-modern extension of the old Yugo range:
3. Zastava 10, a recent development, and actually a hand-me-down (older Fiat Punto) from Fiat who revived good old tradition of licensing older models to the Serbs. Recently all the rage in Serbia, apparently ubiquitous in Belgrade, even as police car, as seen on TV in various reports on post-Kosovo riots.
4. Zastava (freakin') Skala 101, another one licensed from Fiat BUT back in 1971 - it's Serbian for Fiat 128, COTY 1970!!!
5. Lo and behold - Opel Astra B (the same one that's currently built in Poland, i.e. the previous-gen Astra known to Europeans and Australians as the Classic) - an agreement with GM was announced in 2007, I am not sure if the assembly has yet started or whether they're waiting for the Gliwice plant to hand down production lines once production winds down here.
So, the talk of town was that both GM and Fiat were in talks with Zastava to extend their cooperation beyond assembly/licensing and to actually take over the entire enterprise. Even though both GM and Fiat operate plants in Eastern Europe, they are both in Poland and churning out perfectly "normal" cars, so even despite some cost and quality advantage, they aren't quite what Dacia is.
Oh, in case you've been under a rock - Dacia is a Romanian automaker, which, like perhaps all Eastern Block makers but Skoda, relied on a partnership with a Western automaker, Renault. And, after a long hiatus, it was finally taken over by Renault recently. Renault gave Dacia a lot of attention, development monies and the Renault Clio platform and received in return the Logan:
It is a car designed with so much cost-cutting in mind GM's bean-counters could only watch with gritted teeth. It is reasonably up-to-date when it comes to basic technology, has actual room for a 2+2 family (unlike minicars often peddled to developing markets as "cheap family transport"), and, as mentioned, is targeted at developing markets where people want a decent car at a very low price. It proved a runaway success around the globe and started the recent buzz about low-cost models, re-ignited by the arrival of ultra-cheap Tata Nano this year.
SO, Fiat and Opel were competing for both great access to the Serbian/former Yugoslavian market (despite severly maligned by years of warring, it is still a condierable customer base, also given that Yugoslavia was by far the wealthiest [per capita] of Eastern European countries), as well as a potential chance to have their own Dacia. And Opel lost...