Discussion Starter
·
#1
·
Brands with the highest volumes to ethnic buyers
(Source IHS via Autonews)
Nissan is the brand with the highest share of ethnic buyers in America at 36%, followed by Mitsubishi (35%), Toyota (33%) and Honda (31%) while Dodge is the only American brand in the Top 13 brands with the highest rate of ethnic buyers in 5th place with 30%. Could this partly explain the tremendous success of the Dodge Dart in Albuquerque? Notice the exceptional strength of premium marques such as Lexus, BMW both at 29% of ethnic buyers, Mercedes at 28%, Acura at 28% and Maserati at 27%.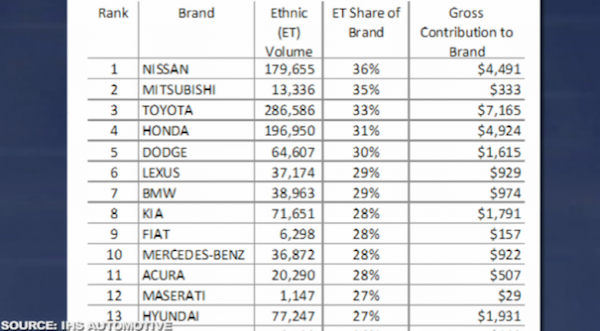 According to IHS, new vehicle consumption among ethnic consumers, defined as African-American, Asian and Hispanic buyers, is up 8% year-on-year over the first 6 months of 2014 vs. 4% for the overall industry, with Hispanic consumption up an even more impressive 10%, in effect lifting the overall US car market up. Ethnic population growing faster than the national average, this is a very important trend in the U.S. new vehicle market as the share of ethnic buyers in the overall market is bound to become more and more prominent. The side-effect of this is manufacturers doing well with ethnic buyers have great chances to see their national market share outperform the market in the next decade. There should be a red flag here for the Detroit Big 3 as ethnic buyer patterns show a strong preference for foreign brands – albeit most of the cars they purchase still being made in the U.S.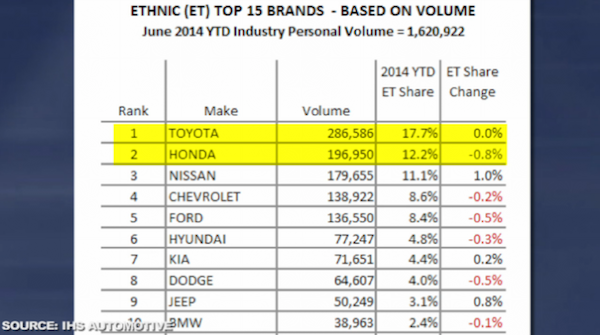 Brands with the highest volumes to ethnic buyers (Source IHS via Autonews)
In terms of market share, Toyota holds almost 18% of the 1.6 million new vehicles ethnic consumers have bought over the first 6 months of 2014 vs. 12.2% share of the overall national market, followed by Honda at 12.2% vs. 8.1% and Nissan at 11.1% vs. 7.9%, Chevrolet at a timid 4th place with 8.6% share vs. 12.6% nationally, while Ford is at an even more unimpressive 8.4% share, that's almost half the market share it has with the entire American population at 15%.
LINK