Discussion Starter
·
#1
·
Ok, on my way to work, I've been seeing Dodge Journeys (Journies?) with Michigan manufacturer plates on it for several months now, but normally they are just regular looking production cars. Nothing really special about them. But today, I saw one that had a little tail on the back and some monitoring equipment on the dash. Is it some sort of alternative fuel guinea pig? That's the only thing I could think of judging by the connectors/fittings on the back of it and the computer on top of the dash cluster. they were mounted to a bracket. The one on the left had what looked like a rubber hose looping back from under the car somewhere. The one on the right did not have anything connected to it. It was almost like an air line quick disconnect, but without the hole in the middle and this looked like the male end of the system. Also, there was a tag hanging off of it that was flapping around.
I took a cell phone pic, but it really, really sucks! It kinda gives you an idea of where it is (left side of rear bumper) but you can't make out any sort of detail at all.
I wish I would have had a real camera with me. Usually I do.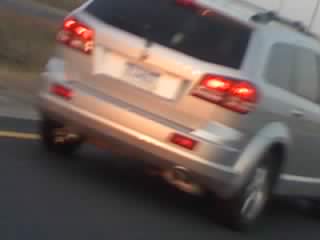 Maybe it wasn't anything that special, but it was strange, because of the unit mounted on top of the dash and usually I see nothing out of the ordinary on the Journeys I see on the way to work.