Discussion Starter
·
#1
·
http://www.autoblog.com/2008/05/26/details-on-mazda1-revealed/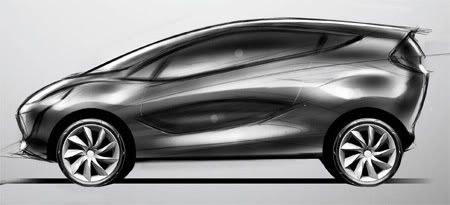 High energy costs and growth in emerging markets have automakers scrambling to downsize their product plans, and ultra-small transportation like the

VW up!

is bound to bring low-cost city cars to the masses. Mazda intends to be a serious player in this burgeoning segment and will unveil the Mazda1 concept in Paris this fall, expected to look like the sketch above and influenced by the

Nagare

design language.

Mazda promises that the production vehicle will be more "radical" in production trim, though it likely won't carry fuel cells and batteries like the concept. The automaker does plan on offering amenities like navigation, Bluetooth and iPod connectivity, and the micro will have sliding doors and seats to make getting in and out easier. Mazda engineers are also working hard to make sure the Mazda1 is environmentally friendly, which means low emissions, small powertrains, and low weight. Fortunately, those very same attributes will also help keep costs down, which should help Mazda offer the vehicle everywhere from India and China to more developed regions like Europe and the US.