Sorry if this is a bit late, I only saw the theme yesterday.
This started out as a bit of a laugh but the more I thought about it, the better it sounded....sort of.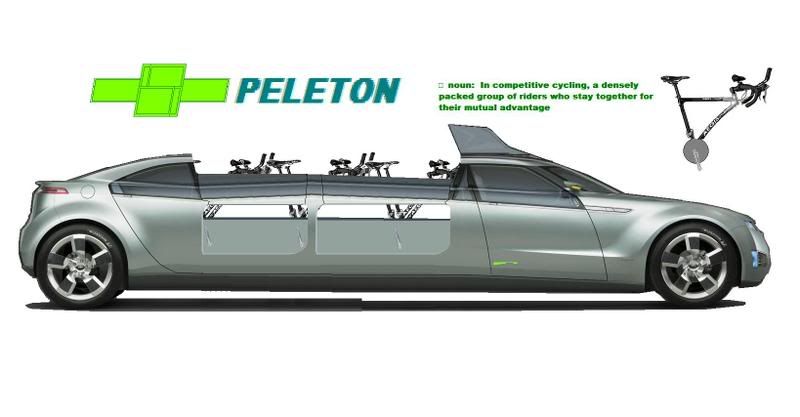 The Chevy PelEton
Welcome to 2020 and the introduction of PelEton.com.
Run across the beautiful city of San Franciso, the Chevy PelEton is powered by the people. Sitting 2 abreast and three long, on removable hand-made carbon fibre pods from Aegis, riders pay an annual fee for membership on the city network.
Each rider can determine the level of effort via adding or reducing resistance on the fly, of their individual pedal unit. Therefore they can pedal independent of the speed of the vehicle. Each rider can see, via a small PelEton LCD at the centre of each pair, their contribution in relation to other riders and power usage of the vehicle.
To aid in efficiency, the PelEton is made of an ultra light weight composite of reed, which is hand weaved in less fortunate countries, then heat pressed in resin, helping to provide a sustainable future.
The PelEton is introduced in concert with SFs latest investment in public transport infrastructure, the Generate Network. The Generate Network is a grid of charging points located across the city. Each point has a deposit of super capacitors housed below the street and coincides with bus stops as identified by signage. Interface between the PelEton and charge points is via contacts below the PelEton and on the street surface, which is activated by the PelEton remote pilot from SFs traffic control centre, the same way that SF's new Etrolleys operate.
In addition to rider generated energy and charge points, regenerative braking of the vehicle also contributes to the short range battery which is smaller than the commercially available personal vehicle, the Chevrolet Volt. When the PelEton generates more power than is required before the next charge point, the additional energy is deposited into the super capacitor. If there is no PelEton due before the minimum discharge time of the super capacitor, the energy is deposited back into SFs power grid. Likewise, if a charge is not available, it is taken from SFs grid.
Where normally, there would be a driver, there is a bench seat which is available to senior citizens and differently-abled persons whom have booked their seat via PelEton.com.
To create interest in the project, PelEton.com will be offering annual prizes for riders. When you ride the PelEton, your personally generated energy will be recorded by PelEton.com, with stats available on all your competitors. Weekly winners will be sent a Yellow jersey that you can wear during your journey for that week. There will be additional prizes each month such as free charges for your Chevrolet Volt, customised Aegis pods, custom compression suits and more!
The great thing is if you get together with colleagues and book a PelEton, because you aren't limited by set out bus routes, you can "race" your friends to work and get dropped off right at your office door.(conditions apply)
At the end of each year, online stats will not be available for the final week, as we hunt for SFs greatest rider, who will be awarded the Golden Gate award, comprising a unique pod, compression suit, riding shoes and Blue Tooth and iPod integrated helmet/visor, all in resplendent Golden Gate Bronze, as well as a trophy awarded to you by our new Mayor Escuro!
And don't forget, if you don't contribute, you can't ride.
SF Chevy PelEton. Catch it if you can (tm).
I still crack myself up.