The Cruze has an upscale interior. So does the next gen Golf/Rabbit.
The Cruze gets a non-DI 1.6L 112hp wheezebox and a 1.8L 140 hp engine. The next gen Golf/Rabbit gets a 1.4L DI twin-charge engine good for up to 170 hp.
By the time the Cruze gets here, will it be a new hit, or an also ran?
A little to Korean?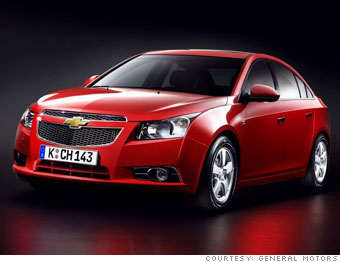 A classic look refreshed...
LTZ?
An interior that justifies a premium price.
At launch in Europe, Cruze will be available with 16-valve, 1.6-liter (112 hp/82 kW) and 1.8-liter (140 hp/103 kW) gasoline engines featuring variable valve timing (VVT) on both inlet and exhaust sides, giving more power as well as better fuel economy and lower emissions.
source
It's been reported that Eaton will be providing superchargers for use on the 1.4L TSI engines for the MK VI Golf including the Rabbit-badged version sold in the U.S. market. The 1.4L TSI is a direct injected four cylinder engine that's been offered in multiple power levels for a variety of European Volkswagen models for the past two years. The top 140 and 170 hp versions use a combination of a supercharger and a turbocharger to give a performance boost through the engine speed range.
source