Discussion Starter
·
#1
·
Well, winter has arrived in northern New England, and that means tire changeover time. Time to replace those summer-only or all season tires with dedicated winter skins. I picked up the 3 series a few months ago and have been impressed with the grip of the stock Continental tires on dry roads. As good as their grip is in warm, dry weather, they are terrible once the snow hits the ground. Even with AWD, a light snow fall made for white-knuckle driving. I live up a steep dirt road, followed by a long, winding driveway that is also on an incline. I didn't anticipate the early snowfalls and got caught a couple of times before my snow tires were installed. Not fun. The car just struggled and barely made it up the hill after about an inch of snow. The descent was just as bad, having to keep the car in 1st gear and under 5 mph to maintain control.
I ordered a set of Bridgestone Blizzak WS-80 tires mounted to 16in steel wheels. Moving from the stock 17 in wheel allows for more sidewall to deal with frost heaves and pot holes that populate the roads in late winter. The steel wheels are also more forgiving than alloys when encountering said pot holes and are cheaper to replace, if they are damaged. I had the wheels mounted two days ago in the middle of a storm that left us with a foot of snow. What a world of difference! The amount of bite and traction that these tires provide is amazing. It stops much better on snow, driving up my road and driveway is now child's play, and negotiating a turn is no longer a white-knuckle experience. An added benefit is that they are actually quieter than the stock Continental run flats that were on the car. Happy Winter!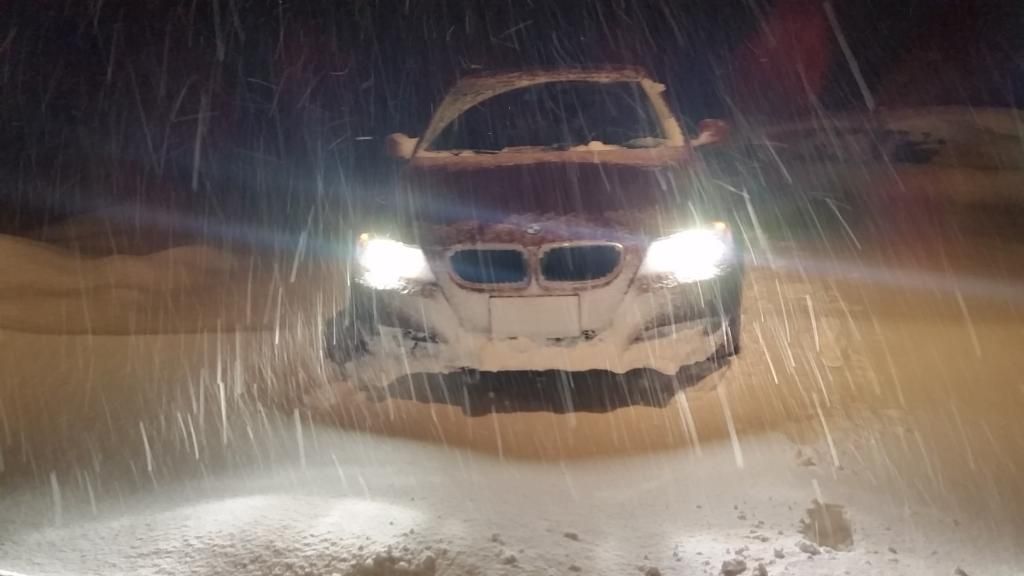 The Ultimate Winter Machine!
I kind of like the look of the black steelies.
Acadia bonus shot!