Discussion Starter
·
#1
·
This is a story that is not easily summed up in a headline. The United Nations has an outfit called the Food and Agriculture Organization (FAO). Yes, this is a curious name since the people on the organization do not grow food and their knowledge of agriculture is limited to taking from agricultural producers and giving to Marxist despots.
But I digress.
There recently was a big movement by the New World Orderists who clearly did not like America's recent uppity streak when it came to energy independence. They wanted to shut down America's biofuel industry. You can imagine the arguments (e.g., after all the graft payments, PEMEX does not have enough money left over from selling the U.S. oil for $139/barrel to subsidize tortilla sales).
This prompted the typical and completely unnecessary injection of facts into the discussion. As a result (along with the "fact" that America made clear any ban on biofuels would have to be funded by some other member state, such as Somalia or Togo), the FAO issued a report concluding that it would further study the issue and focus on increased agricultural output rather than banning biofuels. Of course, this leaves us with a couple of questions:
If America is a soverign nation, how did the UN ever envisioning banning biofuels in the first place?
If the doubling of corn prices due to Chinese demand and the falling dollar does not prompt increased agricultural production, what will?
At what point in history did people who chose to live in the desert decide they were entitled to American corn?
In any event, I say it is a positive development for American energy independence and the American farmer when the UN decides to "study" an issue.
The battle.
UN surrenders.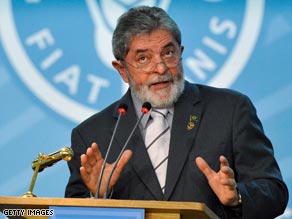 Brazil's president tells the UN to go pound sand.