Discussion Starter
·
#1
·
2004 Pontiac Bonneville GXP Road Test
Andrew McCredie
Canadian Auto Press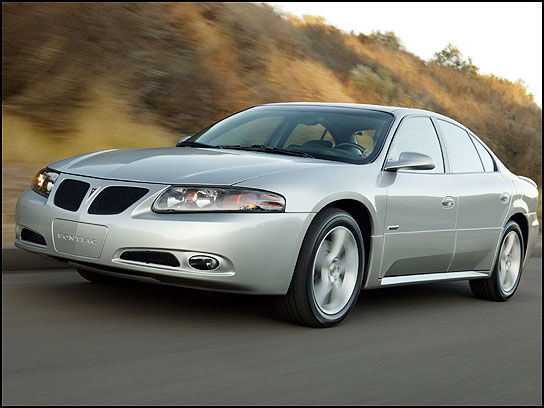 Powered by a Cadillac-inspired 4.6-liter Northstar V8, the GXP is Pontiac's choice to go head to head with European and Japanese automakers in the competitive sport/luxury four-door market. None of the European or Japanese cars offer a high-tech V8 engine at anywhere close to the same price.
The name Bonneville harkens back to simpler times when a coke cost a nickel. Born in the optimistic, sky's-the-limit 1950s, the Bonneville moniker, originating from the famous Utah salt flats that have been home to pretty well every land speed record since time immemorial, has lent itself to Pontiac's large sedans for more than a half-century, though none have been as technologically advanced, nor as audibly threatening as the '04 GXP.
A stable mate to the base SE and SLE models, the GXP combines muscular performance with well-appointed creature comforts. Powered by a Northstar V8, which actually comes directly from the now defunct Oldsmobile Aurora, the full-size sedan is Pontiac's best effort to date in taking on the boatloads of European and Japanese sport/luxury four-doors that now dominate a class once ruled by the Big Three.
Like those imports, and unlike far too many U.S. sport sedans, the GXP is tight in the corners, thanks largely in part to its four-wheel independent, performance-tuned, load-leveling suspension, variable assist rack and pinion steering, front and rear stabilizer bars, Stabilitrak electronic stability control and electronically controlled transaxle.
With 300 lb-ft of torque mated to a smooth four-speed automatic Hydra-Matic transmission (speaking of brand names from the past), the performance of the Bonneville is what you'd expect from a powerful sedan. Acceleration, particularly at highway speeds, is immediate, and the performance-tuned dual exhaust system produces a sound that will turn heads.
The sport styling of the GXP is also worthy of a neck snap or two. Redesigned front and rear fascias, with new headlights, taillamps, exhaust tips and rear spoiler give the GXP a sleek look no prior Bonneville has ever had, and the meaty 18-inch 5-spoke wheel and P235/50R18 tire package, complete with large front rotors and red-painted brake calipers, provide the kind of Euro-look that has come to define the category.
Inside, the GXP is loaded with features, including big, suede-trimmed seats up front and in the back, an eight-speaker Monsoon CD player, and power everything. My tester was also equipped with a heads-up display option ($480), and while I've never felt the need to see my speed displayed on the window, the fact that a blinking indicator light shows up there is a helpful reminder to those who forget to turn off their signals.
FULL Article Here
MSRP: $35,270 USD MSRP, $32,272$ USD Invoice / 45,995 CDN MSRP
Engine: 275 hp, 300 lb-ft of torque, 4.6-L, 32 -valve, DOHC V8
Direct Competitors: Acura TL, Audi A4 / A6, BMW 3-Series, Nissan Maxima, Saab 9-3 / 9-5, Subaru Legacy, Toyota Avalon