I was reading through the SAAB threads last week, and was somehow inspired to draw a next-gen 9-5. When chaseabryant came to me with his idea of reviving a falling brand of GM (the idea was also brought to the table by a GMI member), my new drawing fit in perfectly. The 9-5 is a big one for SAAB - if GM messes it up again, SAAB is going nowhere but downhill.
Here's the lowdown on my 9-5:
The styling is pretty much all AeroX-inspired, with various cues that give it the 9-5 family resemblence. The headlights are standard SAAB fare, while the taillights are something special. The brake light is the narrow "ring" around the taillight, and the signal light and reverse light are inside the "ring".
Three trim levels representing three engines -
2.0T
with a 2.0L turbocharged, direct-injected I-4 pulling out 260hp;
Aero
with a 2.4L turbocharged, direct-injected I-4 pulling out 305hp; and
TurboX
with a 3.0L turbocharged, direct-injected V6 pulling out 340hp. The XWD system that debuted on the new 9-3 is standard across the board, and the 9-5 is available in three body styles - sedan, hatchback (Sporthatch), and wagon (Sportcombi).
So, may I present...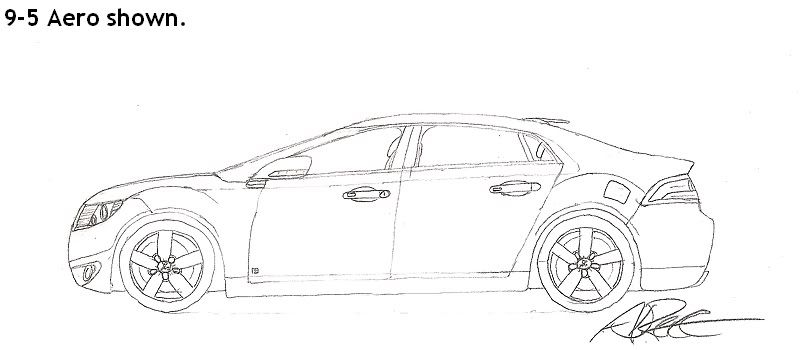 Comments?