Discussion Starter
·
#1
·
2015 Ram EcoDiesel versus 2015 Ford F-150 2.7L EcoBoost – Highway MPG [Report]
Posted by Andre Smirnov - February 14, 2015
TFLTRUCK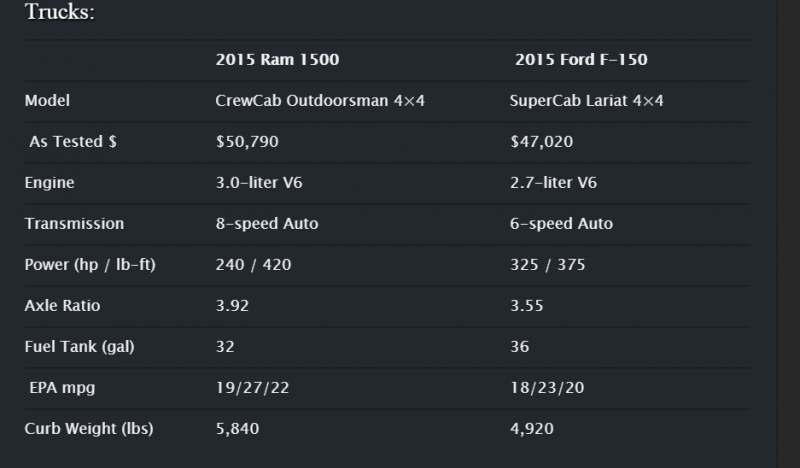 ​
Which gets better MPGs on the highway? The 2015 Ram 1500 EcoDiesel or the 2015 Ford F-150 2.7L EcoBoost? The answer may be obvious if you look at the EPA estimates for each truck, but we had a hunch that we would see different numbers on the stretch of I-25 highway north of Denver. This is TFLtruck's "eco" real-world fuel economy test.
Route / Environment:
The highway run consists of a 33.5 mile highway-only loop: 18 miles northbound on I-25 and 15.5 miles southbound. Both trucks were tested the same day (Feb 13, 2015) within two hours of each other. The temperature was around 64F with calm wind conditions. Both trucks accelerated with partial throttle via the on-ramp and cruise control was set at 65 MPH. We selected 65 MPH because this is the speed limit on many highways around the country and most states limit the speed of towing pickups to 65 MPH.
Both trucks were empty with one person (the same driver in both trucks). Both trucks had nearly full fuel tanks. The Ford used up several gallons before the test and was showing closer to 3/4 tank.
Result:
The 2015 Ford F-150 SuperCab 2.7L EcoBoost Lariat 4×4 recorded 27.8 MPG on the trip computer. The 2015 Ram 1500 CrewCab 3.0 EcoDiesel Outdoorsman 4×4 recorded 30.1 MPG.
Both trucks cruised effortlessly, but the Ford was actually running closer to 1,700 rpm at 65 mph. The Ram was humming at around 1,900 rpm. The EcoBoost surprised with a number considerable higher than the EPA highway estimates. The EcoDiesel's result was not a big surprise as diesels tend to get better results on the highway.
more at the link...