Discussion Starter
·
#1
·
2015 Mid-Size Truck Shootout: Colorado vs. Tacoma vs. Frontier + Video
Jan. 07, 2015
By Josh Burns, Photos by Josh Burns and Scott Rousseau, Video by Jay McNally
OFF-ROAD.COM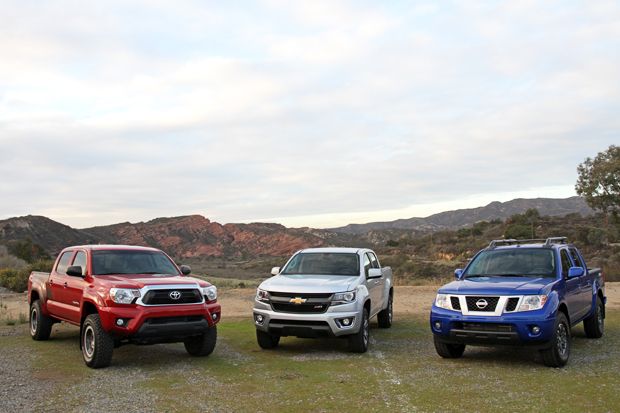 ​
Stagnant. Boring. Neglected. There are plenty of adjectives that can be used to describe the mid-size truck market the past few years, but "exciting" certainly isn't one of them. With hardly any manufacturers left in the class, save for Toyota and Nissan, it's as if the mid-size segment parallels the fading sport of boxing – it once garnered the attention of fans the world over, but now many have left and moved on to something else.
Where some see a dying segment, Chevrolet sees opportunity. Parrying questions and counterpunching the doubters, Chevy looks to deliver a roundhouse kick to the head of the mid-size truck market much like UFC did with professional fighting. UFC could see the potential of mixed martial arts if it presented the right product, and Chevy has that same vision of the mid-size market, and it believes it has constructed a head-turner with the all-new Colorado. Chevy appears to have produced a fighter worthy of entering the mid-size truck Octagon for 2015, and all of the sudden it looks like we have a fight on our hands.
more at the link....