Discussion Starter
·
#1
·
2015 Annual Physical
Posted by Mark Williams | January 26, 2015
pickuptrucks.com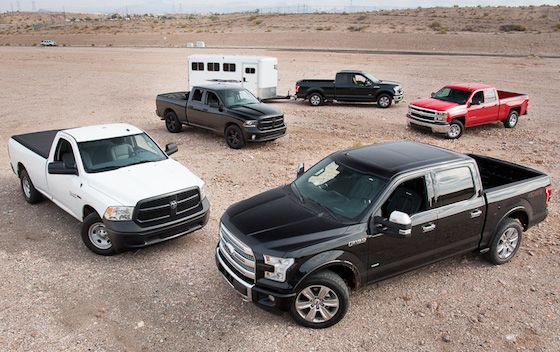 ​
Last year, we introduced our Annual Physical concept on PickupTrucks.com in order to test and track as many new pickup trucks as possible. The 2014 Annual Physical focused on V-6 engines from the half-ton (GM's 4.3-liter EcoTec3 and Ram's 3.0-liter EcoDiesel) and midsize (Toyota's 4.0-liter, Nissan's 4.0-liter and Honda's 3.5-liter) segments.
This year we conducted our 2015 Annual Physical at the same time as our recent 2015 Light-Duty V-8 Challenge; as a consequence we opted to focus our test segment on half-tons — with one exception. To make it interesting and meaningful, we asked for pickups with V-6 engines in middle-cab configurations (typically meaning extended cabs) with 4x2 running gears with a price ceiling of $34,000. The six 2015 test trucks for the 2015 Annual Physical were the Chevrolet Colorado 3.6-liter (the aforementioned exception), the Chevy Silverado 1500 4.3-liter, the Ford F-150 2.7-liter EcoBoost, the Ford F-150 3.5-liter EcoBoost, the Ram 1500 3.6-liter and the Ram 1500 3.0-liter EcoDiesel. We should note the two new F-150s were technically preproduction trucks — we conducted the test several weeks before the start of production for the all-new half-ton.
Only two of our six trucks this year met all four of our criteria, yet the remaining four offered so much interesting data and information we decided to include all in this year's report.
And in case you are wondering why Toyota, Nissan or GMC are not represented, the first two do not offer V-6 engines in their half-tons, and GMC declined because it would have sent us a truck similarly equipped to the one that we tested last year.
More at the link...