Sorry if repost, didn't find it with a search though.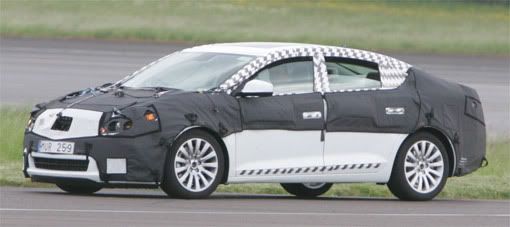 http://www.motorauthority.com/news/sedans/spy-shots-next-generation-buick-lacrosse/
Buick's next-generation LaCrosse has been spotted testing at GM proving grounds both in the U.S. and Germany and as expected the shape of the prototype closely resembles the design of the recent

Invicta Concept

. Earlier this month, GM vice chairman

Bob Lutz confirmed

the two vehicles would be very similar and that the new LaCrosse will be shared on the same FWD Epsilon II platform as the Opel Insignia and next-gen Saab 9-5 as well as a new Chevrolet model.

Production of the 2010 LaCrosse is expected to start at GM's Fairfax plant in Kansas in early 2009 and the first cars are tipped to arrive in U.S. showrooms towards the end of the year. The new model will be a global car and will likely be built in China with GM's local partner Shanghai Auto as well.

American versions will get the same direct-injection 3.6L V6 found in the Chevrolet Traverse and should output a similar 286hp (213kW) and 345Nm (255lb-ft). The Chinese model could get the V6 as well as a new four-cylinder powerplant with 250hp (186kW) and 220lb-ft (298Nm) of torque. All models will come standard with a six-speed automatic transmission.
More pictures at the link.